Zoerenity Chalets
Zoerenity Chalets

18004 Buckingham Road

Logan, Ohio 43138

Phone: 614-906-2212

Web Site:

www.zoerenitychalets.com

Property Overview

Escape to a secluded 2 bedroom luxury hideaway. Enjoy relaxing in the steam sauna or a beautiful view from the indoor sunken hot tub. Play a game of pool, darts or choose from the 60 game arcade cocktail table.

Category: Hocking Hills Cabins
Accommodations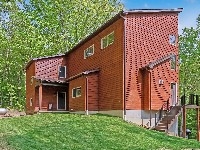 Zoerenity Chalet
- Looking for a cozy cabin in Hocking Hills Ohio, then look no further than Zoerenity Chalets. Our secluded two bedroom cabin vacation rental is 2600 square ft of pure luxury and relaxation.
Maximum Occupancy: 8
Featured Amenites
(The most commonly requested Hocking Hills amenities are listed in bold)
•

Hot Tub


• Gas Log Fireplace
• Electric Fireplace
•

Big Screen TV


• Satelite Television
• DVD Player
•

Fire Ring


•

Air Conditioning


• Pool Table
• High Speed Internet Access

• 2 Bedrooms
•

King Bed


•

Queen Bed


• Sofabed / Foldaway
• Shower Only
• 2 Baths
• Gas Grill
• Charcoal Grill

•

Suited for Children


•

No Smoking Inside


• Television
• Stereo System
• Board Games
• Arcade Game
•

Game Room



Visitor Reviews
Rating

5 out of 5

Relaxation at its finest!

Review Posted:

Oct 9

Date of Visit:

September

Our visit with Zoerenity Chalets was nothing less than perfection. The chalet was absolutely spotless. The thing that stands out most about this chalet is the relaxation and incredible rejuvenation you experience during your stay. From the grand shower in the upstairs bedroom loft overlooking nature to the majestic hot tub and soothing sauna. The scenery is breath taking and the outside patio is so magical in the evening with the warm glow from the fire pit table and two patio heaters. This chalet also offers endless hours of fun in the large game room with a pool table, arcade game, darts and several other games. Thank you Zoerenity Chalets for this amazing experience! We can't wait to book another stay with you soon!

Management Comment:
We are delighted every time we hear that someone had the exact experience we were going for! Thank you so much for sharing with us and our future guests!
Rating

5 out of 5

Cheryle Renee Davis

Review Posted:

Aug 23

Date of Visit:

August

I won a stay at zoerenity but I will definitely be interested in paying to go back.absolutely beautiful surroundings and I loved the loft area especially the shower.my kids loved the pool table the video games and view of the outside from indoors.we were deeply impressed with the cooking class and hot tub area

Management Comment:
We were so happy to host your family and overjoyed that you enjoyed the new cooking class amenity. We can't wait to have you stay with us again.
Rating

5 out of 5

Amazing getaway with modern amenities!

Review Posted:

Aug 14

Date of Visit:

May

Very clean with modern amenities. We loved the spacious chalet and the surrounding nature. The scavenger hunt was a great way for us to get introduced to the layout and features, and to find a hidden surprise! We especially enjoyed the spacious indoor hot tub and the patio + fireplace right outside. The pool table and game room were a nice way to relax. It was a short drive to the Hocking Hills trails. Would definitely stay again and highly recommend it.
Rating

5 out of 5

Girls Weekend

Review Posted:

Jul 17

Date of Visit:

July

A very beautiful place to visit. Everything was perfect.

Management Comment:
Thank you! We hope to see you back with us soon.
Rating

5 out of 5

Awesome place to get away

Review Posted:

Jul 17

Date of Visit:

July

Had a wonderful time and hoping that I can schedule another trip soon...thanks for opening up Zoerenity Chalets to myself, family and friends

Management Comment:
You are so very welcome. We are very pleased that you enjoyed your time with us and hope to see you back soon!
Rating

5 out of 5

A Beautiful, Relaxing Retreat

Review Posted:

Jun 30

Date of Visit:

June

I would highly recommend staying at Zoerenity Chalets. Booking online was easy and the communication I had prior to arrival was prompt and clear. We arrived on a Tuesday evening with plans to hike the next day and go to the Tecumseh Outdoor Drama. Once we got in to the chalet and realized just how calm, peaceful and special it was, we decided to change our plans and remain at the chalet for two days. (We rescheduled Tecumseh and went hiking after checking out :) There are so many unique areas that we enjoyed. The kitchen was well equipped and spacious. The living area was great and the Bluetooth speaker was a nice added touch. The game room was so much fun. Pool, darts, jenga, cards and much more! The upstairs loft area is gorgeous with a comfortable bed, large open bathroom (with beautiful double shower), and outdoor deck. The spa-like bottom level was a unanimous favorite! The eight-person hottub was comfortable with a beautiful view. Although we didn't try the sauna, it was a nice amenity. The 'hidden' bedroom is just another touch that makes Zoerentity Chalets unique! We spent a lot of time outdoors relaxing on the patio and playing corn hole. We grilled out and even went for a walk on Buckingham Road. Listening to the birds and other wildlife was so enjoyable. We woke up the first morning to a woodpecker which was a great way to start off our day! Our Verizon cell phones didn't have service at the chalet but we were able to text and make calls using wifi. Obviously, I would highly recommend staying at this property. We can't wait to return!

Management Comment:
Thank you AK for your lovely review! We enjoyed talking to you and sharing in your family weekend. We would be honored to have your family visit with us again.
Rating

5 out of 5

Home Away From Home

beenthereseenthat1,

Columbus, Ohio

Review Posted:

Jun 18

Date of Visit:

May

My fiance and I stayed at this cozy cabin in early May and immediately fell in love. You most certainly aren't roughing it here. The owners included all of the amenities so that you didn't feel like you were on a camping trip although if you wanted that experience you certainly could. We enjoyed grilling on the patio and the hot tub and sauna is a must do especially at night where you can light up the hot tub. We were able to completely unwind unplug and relax while enjoying the comforts of home like cable tv, a comfortable bed and recreation. I was in complete awe of the decor and the comfort. They didn't over do it with modernization so that you could feel as if you were in a cabin. It is the best of both worlds and it's only 45 minutes from Columbus. We will most certainly be back!
Rating

5 out of 5

Perfect Getaway!

acruzer205,

Columbus, Ohio

Review Posted:

Jun 18

Date of Visit:

May

This place is awesome! Will definitely be back soon! It's perfect for a quick getaway from the city!
Rating

5 out of 5

Time Away From Reality

Jewelsv,

Queens, New York

Review Posted:

Jun 18

Date of Visit:

April

I had a wonderful opportunity to spend some time at this location just to get away from the hustle and bustle of everyday life. The Tranquility of the surrounding trees and the sounds of nature was one I was unfamiliar with until I spent a weekend here. I was fortunate to participate in a women's retreat, quality time with several other women, gave us an opportunity to put down our electronics and spend time knowing each other and enjoying each other's company over great food and great entertainment simply brought by playing old school video games, pool or darts. Relaxation mode took over when we spent time in the jacuzzi and experienced a moment of full relaxation without the worries of work, home and family. The only negative part of our weekend was having to leave because once you've experienced the peace of mind you can attain in spending time at Zoerenity Chalet, you just don't want to face the reality of life. I'm a city girl but I'm looking forward to my next trip to Zoerenity Chalet.
Reviews are the subjective opinions of Hocking Hills visitors and not of HockingHills.com
Web Site:
www.zoerenitychalets.com