Wyandot Woods
Wyandot Woods

14352 Long Run Rd

Laurelville, Ohio 45135

Phone: 740-746-0243

Web Site:

www.wyandotwoods.com

Property Overview

Come visit us at Wyandot Woods where the best memories are made. We are 6 cabins nestled back in the woods on 22 acres. All 6 cabins have a beautiful lake view. So whether it is a romantic get-away for two or packing up the family with furry friends we welcome all.


Category: Hocking Hills Cabins
Accommodations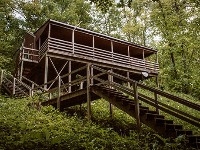 Hillside Cabin
- This spacious cabin comfortably sleeps eight. Hillside cabins open floor plan makes it the perfect place for large groups or famillies to congregate together. Living and Kitchen areas walk right out to large, covered deck with Hot-tub and outdoor dining t
Maximum Occupancy: 8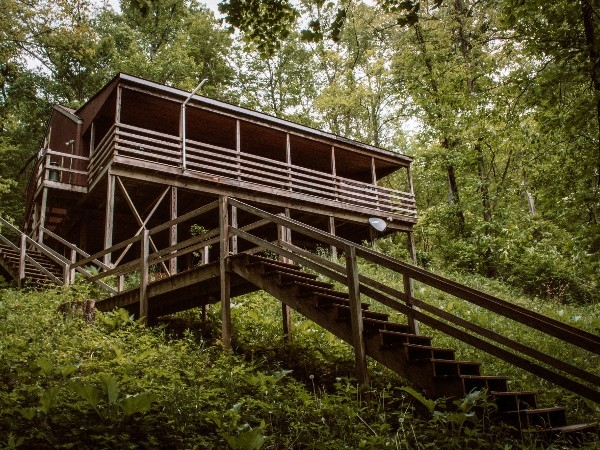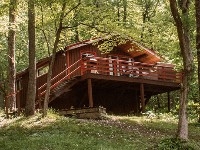 Squirrel's Nest
- This quaint cabin sleeps four, Wether a small familly or a couple this cabin is sure to provide relaxation and tranquility, The four person hot tub overlooks the lake for the ultimate view.
Maximum Occupancy: 4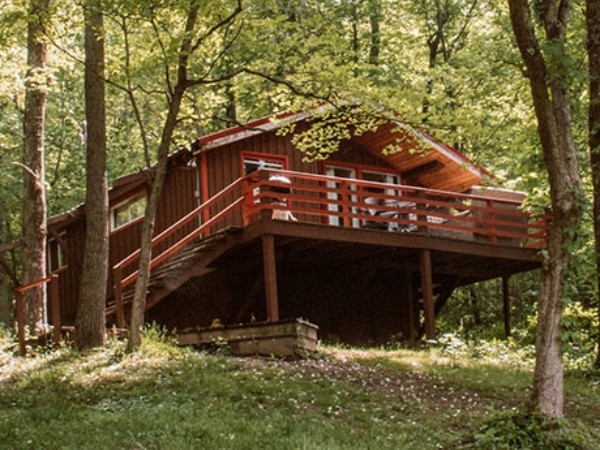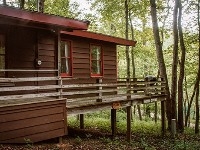 Rustic Cabin
- Enjoy a romantic getaway at the Rustic cabin. Wether you cozy up next to our warm fireplace, or soak in our Bubbly hot tub you will sure to relax while enjoying the beautiful landscapes.
Maximum Occupancy: 2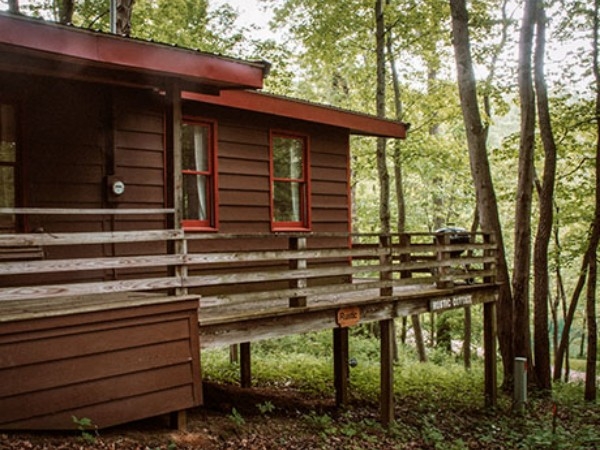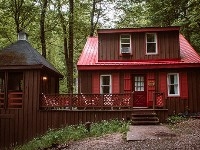 Cape Cod House
- This spacious Cabin sleeps six comfortably, Open floor plan makes it easy for everyone to congregate together.This cabin is also private, set back off the lake. The covered hot tub has view of private pond.
Maximum Occupancy: 6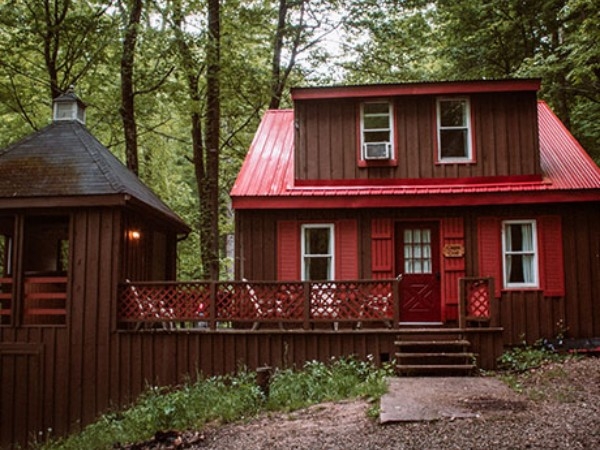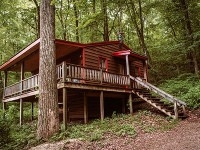 Lake Cabin
- This cabin is a small quaint cabin for two people who want seclusion and to reconnect. The open floor plan allows for couples to communicate while in any room. Covered decks provide great views of lake from the hot-tub
Maximum Occupancy: 2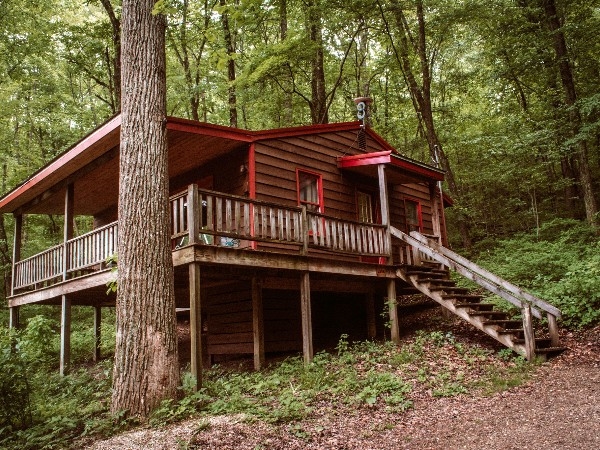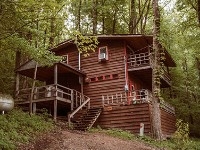 Cedar House
- A true cabin experience This cabin sleeps six with a unique layout, warm and cozy this cabin will give you a feeling of peace and the great outdoors.
Maximum Occupancy: 6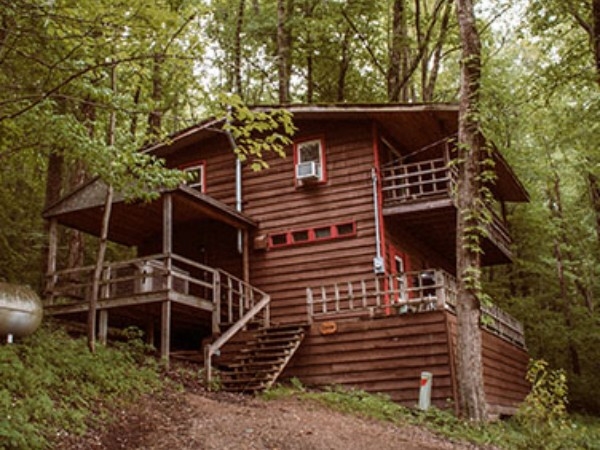 Combined Featured Amenites
(The most commonly requested Hocking Hills amenities are listed in bold)
•

Hot Tub


• Gas Log Fireplace
•

Big Screen TV


• Satelite Television
• DVD Player
•

Fire Ring


•

Air Conditioning


• Fishing On Site
• Swimming Lake/Pond On Site

• 1 Bedroom
• 2 Bedrooms
• 3 Bedrooms
• Full Bed
•

King Bed


•

Queen Bed


• Bunk Bed
• Shower Only
• 1 Bath
• Charcoal Grill

•

Suited for Children


•

Pets Allowed


•

No Smoking Inside


• Telephone
• Television
• Movies

Visitor Reviews
Rating

5 out of 5

Wonderful cabin

Review Posted:

Jul 6

Date of Visit:

June

We had the pleasure of staying in the Hillside Cabin a couple of days in late June. The cabin was spotless and most comfortable for our family. The lake was great for fishing and swimming, and the canoe was a bonus. The owners stopped by and asked if everything was ok and if we needed anything. Great cabin and we will return.
Rating

5 out of 5

Awesome

Review Posted:

Jun 27

Date of Visit:

January

Had a great time. Beautiful setting. Very peaceful and practical. Good price too.
Rating

5 out of 5

Cape Cod

Happy Hikers,

White Lake MI

Review Posted:

Apr 11

Date of Visit:

March

My husband and my 13 year old son and I stayed in a warm, comfortable cabin in Wyandot Woods called Cape Cod. Everything was ready for us when we got there, plenty of everything, from toilet paper to different options of pillows. The beds were all comfortable and the living room was a nice place to hang, with sofas you could stretch out and nap on. We made breakfast and dinners in the kitchen, and it had every utensil, pot, pan, etc. we needed for cooking. The hot tub was a nice relaxing break after hiking the caves and trails of Hocking Hills. We loved walking down the lane and enjoying the hills around the compound. I would recommend this cabin and Wyandot Woods to anyone. I've been there a few times before in the Spring, and always have had a wonderful, relaxing time. I'd love to see what it looks like in the summer! Probably just as lovely.
Rating

3 out of 5

Blue Cottage-Wyandot Woods

Review Posted:

Oct 19

Date of Visit:

October

Great outide areas and deck!! Canoes were fun. Beautiful pond. Clean and comfortable cottage. Some issues. Zero cell service plus no landline phone in cottage. AC did not reach bedrooms and no fans in bedrooms. Small maintenance issues like partial sink clog and light in kitchen not working. Sign missing from exterior of cabin so hard to find unit when we arrived. Will need to bring charcoal, life jackets and DVDs (no satellite) as stated in agreement. The location was very good!
Rating

5 out of 5

Jessica McNichols

Review Posted:

Sep 1

Date of Visit:

January

Cabin was very nice & clean, have a wonderful stay, very peaceful!
Rating

5 out of 5

Great time

Review Posted:

Aug 7

Date of Visit:

July

The grandkids loved it they finished and they did the canoes and they love going hiking it we had a great time.
Rating

3 out of 5

Hocking Hills

Review Posted:

Jul 6

Date of Visit:

June

Cottage could use some updating in the kitchen and bathroom. It was very clean. Plenty of room for two people. Hot tub was clean and ready when we arrived. Although it is somewhat secluded it is by the road, hot tub was not private. Owners were very nice and helpful. Diffinatly would stay there again.
Rating

5 out of 5

one word...AMAZING!!!

Review Posted:

Jun 14

Date of Visit:

June

Reserved The Hill side Cabin for my family recently a few weekends go, LOVED IT! Very clean, very spacious! The Kitchen is open the the living room and The vaulted ceilings made it feel very roomy for all 8 of us! Everything was up to date the furniture, kitchen, bathrooms, beds in the bedrooms! This cabin had everything you needed all you have to bring is cloths, yourself, and the food! JUST AWESOME! My son caught his 1st fish here and we will definitely come back! The is the perfect cabin for families with kids! The rock house is not far either maybe just about a 13 min. drive. Small not there was no cell service, but we did not mind at all it was nice to get away from life temporarily :)
Rating

5 out of 5

Great Stay at the Cape Cod!

Michael,

Grove City, Ohio

Review Posted:

Jun 13

Date of Visit:

May

The family loved it! The hot tub, the scenery, the lake! Beautiful secluded, and peaceful! Very roomy. Everything was clean and ready to go. The wife and I plan on returning by ourselves for our anniversary!!! Thank you for everything.
Rating

5 out of 5

Fabulous Weekend!

Angelique ,

Columbus, Ohio

Review Posted:

Jun 10

Date of Visit:

May

The cabin is tucked away up a hill from the main road. Beautiful location but, we did get lost passing the mailbox a couple times. One of the owners was so kind to stop and ask me if I needed help. When I discovered he owned the cabin, I was so relieved! I finally arrived, and much to my surprise the interior was more updated than the photos online. But the best thing is the view! Amazing! So peaceful! I can't wait to return soon! We will always remember our family camping trip 2017. Thank you Wyandot Woods for making this such a special event.
Rating

5 out of 5

Wyandot Woods

Review Posted:

May 3

Date of Visit:

April

I love this place. We come a couple of times a year. It is so peaceful. The cabins are clean and the owners are always making improvements. 30 minutes from Old Mans Cave or Tar Hollow.
Rating

4 out of 5

Great Get Away

Review Posted:

Apr 6

Date of Visit:

March

Wyandot Woods It was a nice cottage in the woods with view and access to pond and boat. We had a nice view and took advantage of the table and chairs on the front deck. The only problem we had was the hot tub would not get up to a decent temperature until the proprietor fixed it on our second day.
Reviews are the subjective opinions of Hocking Hills visitors and not of HockingHills.com
Web Site:
www.wyandotwoods.com