Whistlestop Bed and Breakfast
Whistlestop Bed and Breakfast

10609 Zeller Road

Logan, Ohio 43138

Phone: 740-385-7004

Web Site:

www.whistlestopb-b.com

Property Overview

Not your average BB...we are the BB where you don't have to see me!! Come and relax and enjoy the country in your private suite in our 100 year old farmhouse. The large suite offers a private entrance, bathroom, well stocked kitchenette, sitting area, electric fireplace, 50TV, DVD w/movies, pool table and a continental breakfast in your suite. A private porch with hot tub. Gas grill and fire ring with firewood provided are also among the many amenities we have to offer. Farm borders the Hocking River just a short walk away. Two adults only A two night minimum Sorry no pets! We are only minutes from all the area has to offer!



Accommodations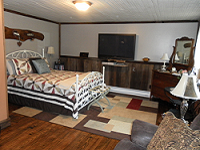 Private Suite
- Suite offers private entrance, bathroom,stocked kitchenette,electric fireplace,pool table fire ring, hot tub other amenities. CLOSE to all attractions Continental Breakfast 2 Adults, No Pets,2 night minimum Call for 1 night in off season
Maximum Occupancy: 2
Featured Amenites
(The most commonly requested Hocking Hills amenities are listed in bold)
•

Hot Tub


•

Firewood Provided


• Electric Fireplace
•

Big Screen TV


• Cable Television
• Satelite Television
• DVD Player
•

Fire Ring


•

Air Conditioning


• Pool Table
• High Speed Internet Access

• 1 Bedroom
•

Queen Bed


• Shower Only
• 1 Bath
• Gas Grill

•

ADA Compliant


•

No Smoking Inside


• Telephone
• Television
• Board Games
• Movies

Visitor Reviews
Rating

5 out of 5

Can't Wait to Come Back!

Liz and Brandon,

Columbus, OH

Review Posted:

Oct 30

Date of Visit:

October

Shelly and Mike were so hospitable - we felt right at home the moment we pulled in. Everything we could ever want (plus more!) was waiting for us. Shelly's cinnamon rolls are to die for, the suite was adorable, Lucy the boxer was the best welcome committee ever, and the house was in the perfect location: easily accessible from the highway and a short drive from all the beautiful hikes of Hocking Hills. It was a perfect romantic getaway and we are already trying to figure out when we can go back. Thank you so much for an amazing trip!!

Management Comment:
Thank you for the wonderful review! I am glad you enjoyed the cinnamon rolls. We and of course Lucy will look forward to the two of you coming back and staying with us again.
Rating

5 out of 5

Jay & Karen P.

Review Posted:

Jul 8

Date of Visit:

July

Sherry, Mike and Lucy were welcoming and made us feel at home and pampered. Accommodations were clean, cozy and peaceful amongst nature's beauty. Definitely one of the cleanest accommodations we have stayed in. We have traveled to multiple 5 star resorts and Whistle Stop Bed & Breakfast is one of our favorite! Sherry makes the best blueberry muffins and cinnamon rolls.

Management Comment:
Thank you for the kind words! We try our best to make our little Whistlestop the best B&B around. We enjoyed meeting you two and look forward to you visiting us again!!
Rating

5 out of 5

We loved this place!

Review Posted:

Mar 2

Date of Visit:

February

The personal touches alone had us! The accommodations were so homey and comfortable. My husband and I felt spoiled and pampered all weekend, yet had all the privacy we could want as well. We can't wait to go back!

Management Comment:
So glad you had good time. We enjoy our little Whistlestop and meeting all the wonderful guests. Hope to see you again soon!!
Reviews are the subjective opinions of Hocking Hills visitors and not of HockingHills.com
Web Site:
www.whistlestopb-b.com