Rush Resort
Rush Resort

-

Laurelville, Ohio 43135

Phone: 740-385-9092

Web Site:

www.rushresort.com

Property Overview

New for 2016. Pool open May-Nov 1st. Step inside Rush Resort, Hocking Hills newest luxury lodge and you'll be moved by the decor's seamless mixture of rustic, country staples - like knotty pine paneled ceilings and custom hand-hewn bedroom furnishings - with bold, contemporary fixtures like an oversized, industrial-inspired stainless steel refrigerator and range, quartz countertops with tiled backsplash and dark espresso-colored cabinetry. Other modern appointments include a gas fireplace with a hearth and a 70 inch Sony Bravia LED TV above it, a leather sectional sofa and two leather recliners, among other high-end furnishings. We spared no expense when furnishing Rush Resort. It's laid out with high quality leather couches, leather recliners and a custom-built hickory dinner table. There's a 3D massage chair, soft, pillowy mattresses on each of the lodge's luxurious, rest-inspiring beds and - our favorite - the in-house movie theater.



Accommodations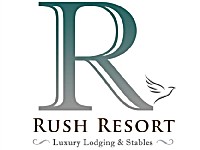 Rush Resort Lodge (22 guests)
- Luxury Lodging. 22 guest occupancy. In-ground swimming pool, hot tub, 6 tier seating theater room, pond, 2 minute drive to horse trails and much much more
Maximum Occupancy: 22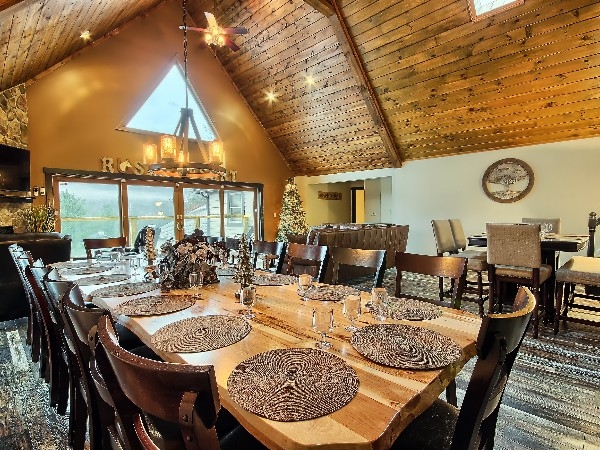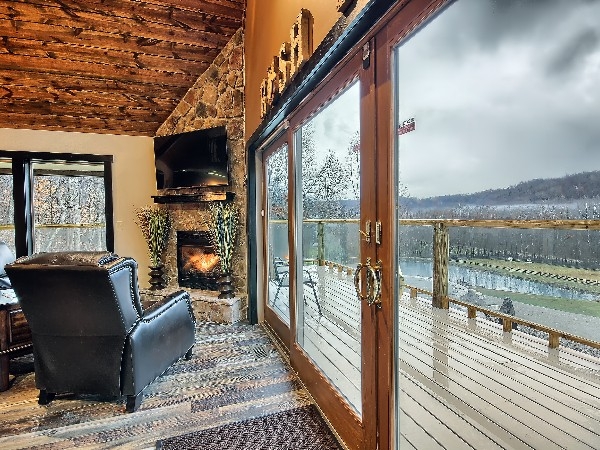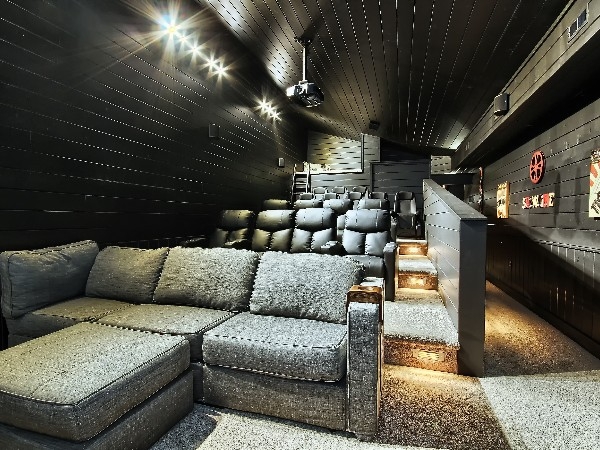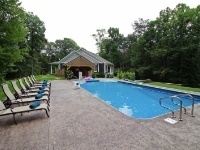 Webb Pointe Lodge (16 guests)
- New for 2017 6 King Bedrooms 4 Full and Bathrooms Theater Room Game Room In-Ground Swimming Pool Hot Tub and Much Much More
Maximum Occupancy: 16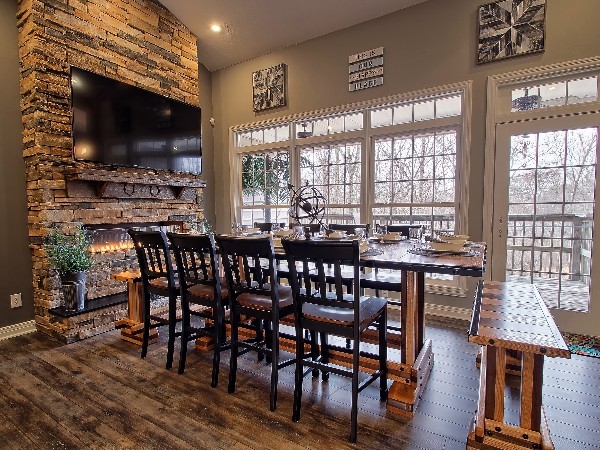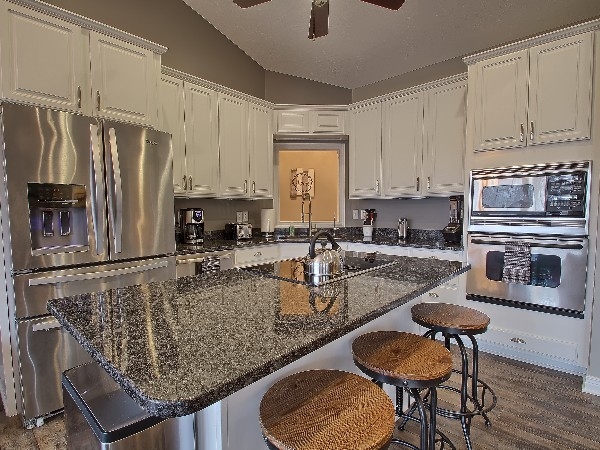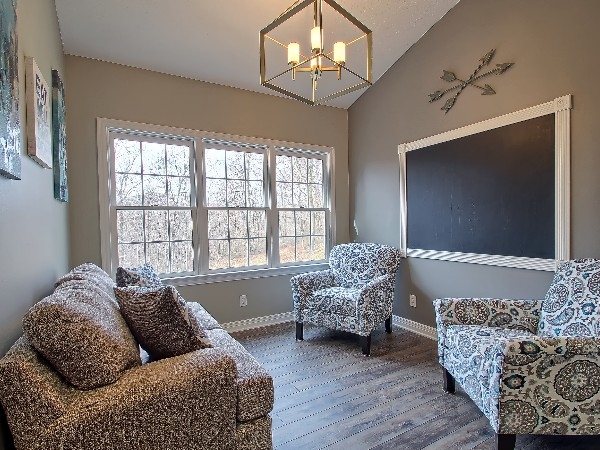 Combined Featured Amenites
(The most commonly requested Hocking Hills amenities are listed in bold)
•

Hot Tub


•

Big Screen TV


• Satelite Television
• DVD Player
•

Fire Ring


•

Air Conditioning


• Fishing On Site
•

Swimming Pool


•

Horse Stalls


• Pool Table
• High Speed Internet Access

• 5+ Bedrooms
•

King Bed


•

Queen Bed


• Bunk Bed
• 4+ Baths
• Gas Grill

•

Suited for Children


• Laundry Facility
•

No Smoking Inside


• Telephone
• Television
• Arcade Game
•

Game Room



Visitor Reviews
Rating

5 out of 5

Laurel Run Farm Luxury Lodge-Hocking Hills

Review Posted:

Aug 2

Date of Visit:

July

This proved a fantastic spot for a large family reunion. There was more than enough room for everyone to spread out, and there were more than enough activities for all. We discovered that the photos were an accurate representation of the farm. If anything, it was even better. Someone stopped by when we were there to answer any questions we might have, and we found the place clean and well-stocked with supplies when we arrived. The kitchen was a huge hit! It was so quiet - a beautiful, private, country location. I would strongly recommend this place to all and would love to return in the future for another stay.
Rating

4 out of 5

Great Family Times!

Review Posted:

Jun 19

Date of Visit:

June

We had a great family trip to Rush Resort with our extended family. There were 11 of us - ranging in age from 70 to 4 years old. Rush Resort had great entertainment options with an incredible movie theater, pool, hot tub, pond, fire pit, pool table, foosball and more! The house was very clean and in great condition. Enough bedrooms for all of us and then some. We had a great stay and enjoyed some local outings including zip-lining and a hike of Old Man's Cave. Only downside was the amount of steps - but it was not a big hassle - just consider that for those they may be weary of going up and down a lot. We had a great time and will be back - thanks!
Rating

5 out of 5

Best trip ever!

Review Posted:

May 9

Date of Visit:

January

Best place to stay by far! We had a blast and the team was so easy to work with!
Rating

5 out of 5

Best house we've rented in years

Review Posted:

Apr 20

Date of Visit:

April

Rented this house for spring break and it was perfect for our group! All the kids had something to do at all times, the lake was one of the best features! Kids fished the entire time! Everyone loved the massage chair too! Will definitely stay here again!
Rating

5 out of 5

Incredible Mega-Cabin!

Review Posted:

Mar 23

Date of Visit:

March

This cabin was an amazing time. I was overwhelmed by both the size and how well kept it was. The layout is perfect for large groups with a game room, an incredible theater room, a beautiful kitchen, and a massive great room. The bedrooms and bathrooms are immaculate and plenty of room to sleep for large groups. Our group loved this place and can't wait to go back!
Rating

5 out of 5

Laurel Run Farm (Lodge)

Review Posted:

Mar 15

Date of Visit:

February

This lodge diffently exceeded my expections. You didn't even need to leave the lodge. It provided alot of fun things to do right there. It was also a beautiful place to stay. Looking forward to staying there again.
Rating

5 out of 5

Luxury Lodging, Hocking Hills

Gary Hall,

New Boston, OH

Review Posted:

Mar 9

Date of Visit:

February

Laurel Run Lodge was beautiful, quite & secluded. Looking forward to returning.
Rating

5 out of 5

Luxury Lodging, Hocking Hills

Review Posted:

Mar 9

Date of Visit:

February

Family gathered at Laurel Run Lodge for a long weekend in Feb. The only thing missing was snow. This property is beyond belief. The most beautiful and well maintained that could possibly be. Food was all that was needed. Didn't Want to leave but looking forward to stay again next year.
Rating

5 out of 5

Laurel Run Farm (Lodge)

Review Posted:

Mar 3

Date of Visit:

February

This place exceeded my expectations. It was beautiful and very accommodating in every way. I look forward to staying there again.
Rating

5 out of 5

Big And Beautiful

Dave,

Wheelersburg, Ohio Scioto Cty

Review Posted:

Mar 1

Date of Visit:

February

We had a great family weekend at the LRF. The guys and I loved the game room the women enjoyed that big kitchen. The weather allowed us to grill out and to sit on the front porch swing. One day we took a trip to Old Man Caves the rest of the days we just wanted to stay in to enjoy the beautiful fireplace, theater and game room. We are already planning on staying here next year.
Rating

5 out of 5

The Lodge at Laurel Run

Bonnie,

South Webster, Ohio 45682

Review Posted:

Mar 1

Date of Visit:

February

My stay at Laural Run Lodge was great. The facility was very clean and maintained. The rooms were very spacious. The location was beautiful. Love the kitchen area, cooking was a breeze in this kitchen. Look forward to staying again.
Rating

5 out of 5

Family Time

Gary Tom,

South Webster, Ohio

Review Posted:

Feb 28

Date of Visit:

February

Met my brothers and sisters at the Laurel Ridge Lodge this past weekend, and what a great time we had! The lodge was beautiful! The guys really enjoyed the game room with the pool table and ping pong. We watched a couple movies in the theater room and enjoyed popcorn and homemade fudge. The ladies couldn't stay out of the kitchen, it was top notch. It was really nice for us all to sit around the table all together. Also enjoyed all the fireplaces and the bedrooms were perfect fit for our group. We all was impressed with this place, it is a little pricey, but the environment and our fellowship together was worth it! We will be back!!!
Rating

5 out of 5

Fantastic Weekend

Carol,

Wheelersburg,Ohio / Scioto Cty

Review Posted:

Feb 28

Date of Visit:

February

All my siblings and I along with our spouses wanted to find a place that would accommodate us for a three day weekend together. While looking online Laurel Run Farm was #1 on our list. When we arrived it was everything and more, especially the kitchen and the game room. We plan to stay here again next year if not sooner. It says what it is a LUXERY LODGE.
Rating

5 out of 5

Hall's Super Weekend!

Madsmaw24,

South Webster, Ohio

Review Posted:

Feb 27

Date of Visit:

February

6 of my siblings gathered at the Laurel Ridge Lodge. It was the most beautiful lodge we have ever seen! Believe me, they didn't spare anything when building this lodge. We really enjoyed the game room and movie theater, but mostly the kitchen, Wow!! We spent a couple hours at Ash and Old Mans Cave. We will definitely be back, hopefully this coming summer to enjoy that beautiful pool area!!! Thank you!!
Rating

5 out of 5

Magical

Review Posted:

Feb 24

Date of Visit:

February

Our family rented The Laurel Run Lodge to celebrate our son's 40th birthday along with his best friend who also turned 40. I cannot begin to tell you what a magical place this is, inside the lodge and out. We were able to house 16 from the ages of 5 to 68 comfortably. There was something to do for everyone from watching movies in the theater; playing pool and table tennis; games; hiking, and s'mores at the fire pit. We relaxed in hot tub and cooked up a storm in the well appointed kitchen. The youngest children cried when we had to leave. We highly recommend this rental to everyone. Thank you Laurel Run for providing this wonderful place.
Rating

5 out of 5

Amazing place, simply wonderful!

Review Posted:

Feb 17

Date of Visit:

February

We arrived at Laurel Run Farm on a snowy beautiful day. Stepping inside from the cold I was overwhelmed by this beautiful lodge. Warm and inviting with charming decor, I was instantly impressed. The photos on their website had done it justice. The amenities were amazing (and so many!) and there was not one thing we needed to ask for. Loved having the close by pantry with an extra refrigerator. We cooked fabulous birthday dinners, watched movies on the big screen in the viewing room, played ping pong, pool and air hockey, enjoyed the fire, soaked in the hot tub and just had an amazing time celebrating 2 birthdays and being together for 3 nights. (8 of us). Plus, we were able to take our two smaller dogs which made it even more like home. Everything was spotless and the management team was wonderful to work with, attentive and responding to questions promptly (before our arrival). We highly recommend this property and hope to return in warmer weather when we can use the beautiful pool and stay longer. We have been to the Hocking Hills several times and no one wanted to leave the lodge to go anywhere else because it was so nice. Thank you to Christina and Matt for your great customer service.
Rating

5 out of 5

Rush Resort Weekend Fun

Friends travel coordinator,

Zanesville, OHio

Review Posted:

Feb 17

Date of Visit:

February

Our group of 10 adult couples spent a February weekend at Rush Resort and enjoyed every amenity. The lodge is as described, spacious, clean, luxurious and beautiful. We knew all 10 couples wouldn't have private bedrooms, but we were willing to share and even the bunks were comfortable. I can see where kids would love this place too though. Since we were expecting it to be a winter weekend, we hadn't planned on the unusually warm weather and decided to take a hike to Old Man's Cave. We were glad we did. Upon returning, we used the hot tub and massage chair. The movie theater room is spectacular, and they've thought of everything, even a popcorn machine. Having the owner meet us at the lodge to give us a tour and instructions on everything was a really nice way to get our stay started. We all want to go back!
Rating

5 out of 5

Rush Resort

Review Posted:

Feb 7

Date of Visit:

January

After staying at Bourbon Ridge (fantastic lodge and setting) last year, we decided to check out the Rush Resort this year and we were not disappointed. Rush lives up to it's online hype. The place is exceptionally clean and well maintained. It has everything you need and a great theater room. Matt and Christina are awesome and extremely prompt with any request we had. After staying for years in the Hocking Hills area with other lodging property groups and continually being disappointed by amenities missing, damaged or not functioning at all, it is safe to say Hocking Hills Luxury Lodging is simply the best. Their attention to detail, prompt service and exceptional furnishings will keep us coming back.
Rating

5 out of 5

Impressive

Review Posted:

Jan 10

Date of Visit:

December

We had a fantastic 50th birthday celebration at Rush Resort. Cozy for the whole group of us, yet plenty of individual spaces if needed. I loved the 3D massage chair. Thought the best feature of this lodge was the theater room. Also loved the furnishings and decor. Loved the game room and the large eating area in the kitchen that opens to the spacious great room with fantastic views. Wished the hot tub was a bit larger to accommodate our group of at least 3 couples. I would highly recommend Rush Resort for luxury lodging in Hocking Hills. Christina and Matt worked awesome with us. Great people.
Rating

5 out of 5

I wish I lived here

BobbyMuscle,

Marysville, OH

Review Posted:

Dec 19

Date of Visit:

December

This was a great place to unwind and take a load off. We spent 2 nights here for business as a retreat to unplug from work and get some things done. This place is exactly as described in the website. I would recommend this place to anyone willing to have fun and be relaxed. The accommodations are superb, everything is in nice order, and we were all impressed by the decor for the holidays. I think the movie theater could be a hit for movie buffs. This would be excellent for the holidays for 10-12 people celebrating together. There is plenty to do and plenty of space. Kids would love playing hide and seek!
Reviews are the subjective opinions of Hocking Hills visitors and not of HockingHills.com
Web Site:
www.rushresort.com