Red Wolf Falls
Red Wolf Falls

Hocking Hills, Ohio 43135

Phone: 330-933-4742

Web Site:

redwolffalls.com

Property Overview

Come experience the Ultimate 3 Story Luxury Log Cabin with its own natural wonder- A Waterfall! So much awaits you! Not only can you step into a Brand New Sundance Spa, Sauna, and Game Room at Red Wolf Falls, but the Hocking Hills State Forest too! Rock House is only 1 mile from our front door! Be sure to click the above link to our website to view a ton of pictures of our log cabin, surrounding forest, outstanding guest reviews, and so much more! Rates as low as 159.00 a night!


Category: Hocking Hills Cabins
Accommodations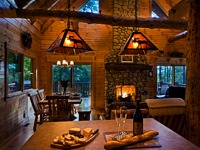 Red Wolf Falls
- Red Wolf Falls is a true log cabin with a natural waterfall. The cabin has three levels, hand peeled timbers, hardwood floors, a log staircase, skylights and stone breakfast bar. A Hot Tub, Sauna and Game Room await you. Only 1 mile from Rock House. WiFi
Maximum Occupancy: 6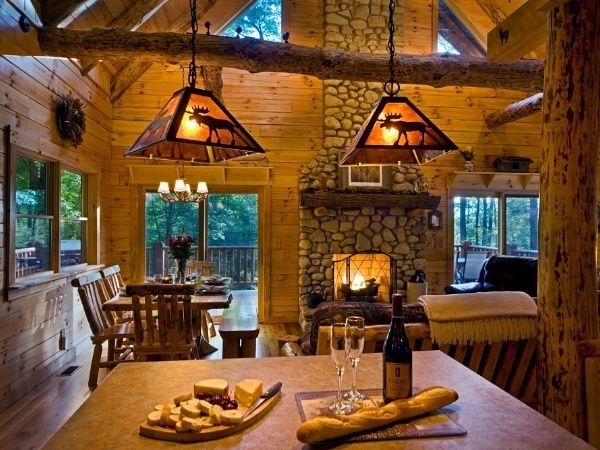 Featured Amenites
(The most commonly requested Hocking Hills amenities are listed in bold)
•

Hot Tub


• Gas Log Fireplace
• Electric Fireplace
•

Big Screen TV


• Cable Television
• Satelite Television
• DVD Player
•

Fire Ring


•

Air Conditioning


• Pool Table
• High Speed Internet Access

• 2 Bedrooms
• Full Bed
•

Queen Bed


• Bunk Bed
• Futon
• Sofabed / Foldaway
• 2 Baths
• Gas Grill

•

Suited for Children


• Laundry Facility
• Iron / Ironing Board
•

No Smoking Inside


• Telephone
• Television
• Stereo System
• Board Games
• Movies
• Arcade Game
•

Game Room



Visitor Reviews
Rating

5 out of 5

Beautiful Getaway

Review Posted:

May 31

Date of Visit:

April

This cabin has it all. Close to all major hiking spots in Hocking Hills. Even has a beautiful waterfall on the property. The cabin is awesome! Cozy fireplace and relaxing hot tub. Also has 3 levels of decks. We like to enjoy cocktails and appetizers on the upper level. Dinner on the main level and deserts on the ground level. Follow that up by catching a ball game on TV or a round of pool. This place is so fun and relaxing you will want to keep coming back. I have!
Rating

5 out of 5

beautiful cabin

Review Posted:

Mar 7

Date of Visit:

February

This was our fourth stay in Hocking Hills and Red Wolf Falls Log Cabin was definitely the most beautiful cabin we've stayed in. It's a true log cabin with a very rustic feel but has all the amenities you could possibly need or want including wifi, pool table, arcade game, hot tub, sauna, fireplaces. The attention to every little detail was amazing. We spent a lot of time just looking around at all the handmade furniture and unique decorations. Everything was purposeful and well done - even the drink coasters were beautiful. The views from the decks were beautiful and the loft was very cool. The owners put their heart and soul into this cabin and you could tell they built it for themselves to enjoy but have very generously decided to share their wonderful home with other people. It truly feels like you're staying at a friend's home. All we had to bring was food and a few personal items. They even had small bottles of shampoo and soaps in the bathroom, coffee filters, cream sugar, sp, a gift basket with coffee and treats. Love the coffee mug exchange. Also, it was very clean - we did not find a speck of dust anywhere not even in the beams underneath the decks! Kudos to the cleaning crew! It was nice to have walking trails right outside the back door - just pay attention to where you're going if you decide to go off the trail like we did. We got lost for awhile. The cabin backs up to the state park so you could wander for hours if you want to. It's also very close to Old Man's Cave and other attractions. My favorite place to stay in Hocking Hills! Highly recommended and we will return next year or sooner!!!
Rating

5 out of 5

This cabin is a dream come true

Review Posted:

Feb 9

Date of Visit:

February

Actually, it is more than a dream come true. It's a home away from home. This cabin is like something out of a decorating magazine and pictures do not do it justice It's not only immaculate, the owners have given a great deal of attention to every possible detail. The peaceful setting guarantees a relaxing and restful stay plus it's close enough to local attractions. But with a cabin like this, who needs to venture out We have visited several times and have never, ever been disappointed. I highly recommend Red Wolf Falls. We already have our next visit booked and hope to return as often as the wonderful hosts will have us.
Rating

5 out of 5

Hard not to Fall for the Red Wolf

Review Posted:

Feb 9

Date of Visit:

February

What a beautiful, wondrous place. My wife and I stayed for three nights in early February. I should first mention how easy the booking process was. The owners regularly were in touch and were eager to answer any questions we had, which was wonderful. In the week prior to our stay, directions were emailed to me. Throughout our visit, a light snow covered the grounds which made for breathtaking views, no matter if we were sitting in the hot tub or simply peering through the windows. While the outside of the property left our mouths agape, the inside was even more beautiful. From the stone fireplace, to the staircase made of logs, to other small touches such as the bear skin covering the back of the futon...everything here made us smile and just oozed comfort My wife and I even stayed a night up on the futon because we were watching television and were just so cozy we did not want to get up. There are plenty of things to keep you occupied, even if you never decide to leave Board games, a cocktail game table, billiards, books...and thats without even mentioning the sauna and hot tub If I had to come up with a gripe, it is this...and its not even a gripe, as it is also a positive. You're ten minutes from anything. That's fine though. Upon the suggestion of the owners, we visited the local stop Grandma Faye's for pizza and ended up buying numerous other goodies. They have almost everything in case you forgot something for your trip...but we ended up getting macaroni salad, potato salad, coleslaw, and ranch potatoes along with our pizza. Everything was delicious. We also visited the new Hungry Buffalo in nearby Logan for lunch one day...it was very tasty and affordable. Afterwards, we went to the Logan WalMart just to walk around a bit. These locations are about 20 minutes from the cabin. If it sounds like I'm gushing, its because I am. I had stumbled across the Red Wolf website over a year and a half ago and had been wanting to visit, but the place seems to be booked constantly...and now I know why. It's absolutely worth it to get your spot early, and I know my wife and I can't wait to go back.
Rating

5 out of 5

A little piece of heaven

Cindy ,

North Canton. Ohio.

Review Posted:

Jan 28

Date of Visit:

January

My husband and I have been to this cabin many times. We enjoy the winter months the best. This cabin is a home away from home. I especially love the peace and quite. It is truly a little vacation for body,mind and soul. You cant help but feel this as soon as you walk through the door. We always grab a walking stick and head on down to Red Wolf Falls. This cabin is beautiful inside and out. We plan on visiting this little piece of heaven again very soon.
Rating

5 out of 5

Traditions

Guests from Up North,

Michigan

Review Posted:

Jan 27

Date of Visit:

October

My family has been going to red wolf cabin for 9 years. When the owner asked me to write a review I really didnt want to do it. We cherish our days at red wolf and didnt want any more guests knowing what a special place it is. Our visit includes hiking in many of the beautiful parks nearby. Evenings are spent by the fireplace with all of us cooking, eating, laughing and enjoying time together. Some of the family enjoys the hot tub while others sit by the outside fire toasting marshmallows. It has become a yearly tradition for us and we hope to continue for years to come.
Reviews are the subjective opinions of Hocking Hills visitors and not of HockingHills.com
Web Site:
redwolffalls.com