Marsh Hollow
Marsh Hollow

19369 Wagner Road

Laurelville, Ohio 43135

Phone: 614-499-8205

Web Site:

www.marsh-hollow.com

Property Overview

Rustic comfort charm! Two private log cabins and a cottage on 34 wooded acres. Choose Pinewood Cabin, perfect for a couple or small family, Amish-built Shadyside, ideal for up to 6 guests, or The Cottage, which accommodates 4 and is now available for booking from July 1, 2016. All feature cathedral ceilings, cheery gas or electric woodstoves, well equipped kitchens, full bathrooms, HDTV and great sound systems, large decks/patio, propane grills, fire rings with free firewood and hot tubs. Pet friendly, of course! At Shadyside and Pinewood log cabins, step down from the main deck to the hot tub deck for a soothing soak while enjoying your favorite tunes on our outdoor sound system. At The Cottage, the hot tub is just a few steps from the back door. 10,000 acres of forests, gorges, cliffs and caves await you in the Hocking Hills. Marsh Hollow is close to all of the major attractions Rock House, Conkles Hollow, Old Mans Cave, Cedar Falls, Ash Caveand more!


Category: Hocking Hills Cabins
Accommodations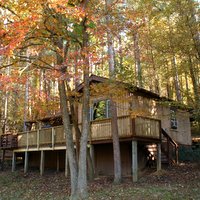 Pinewood Cabin
- Pinewood Cabin is a roomy handcrafted log cabin with a cathedral ceiling living room, a bedroom with a queen-size bed, bathroom with shower tub, a well-equipped kitchen. Partially covered deck includes a HOT TUB. Pet friendly Wi-Fi, of course.
Maximum Occupancy: 4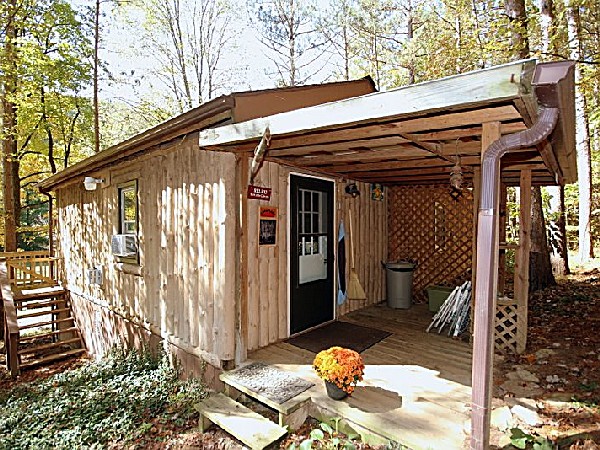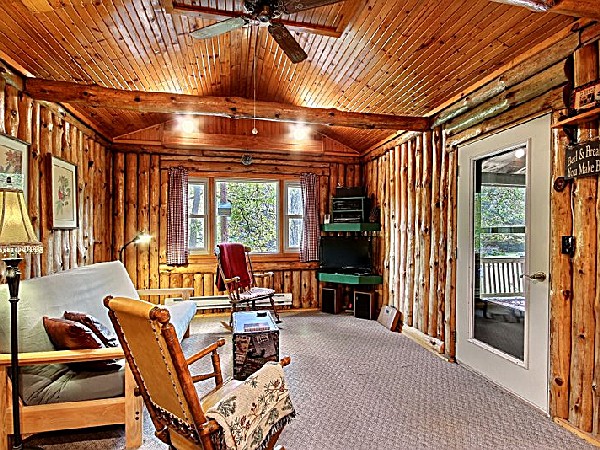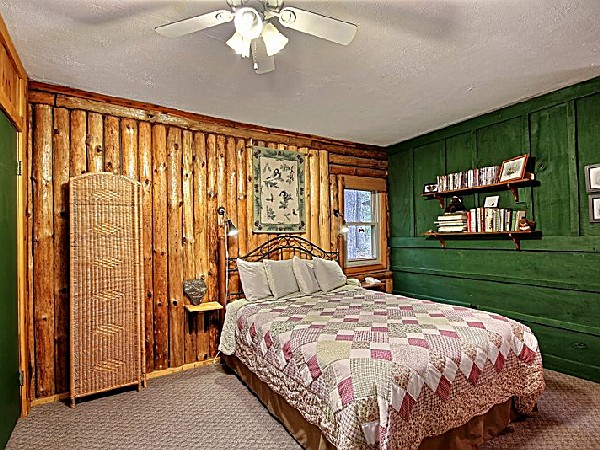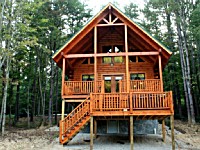 Shadyside Cabin
- Shadyside Cabin is an Amish-built luxury cabin, with 2 bedrooms with queen size beds, 2 full baths, great room, fully equipped kitchen large deck. Guests will appreciate our HDTV, sound system, inside out. Hot tub, of course, Wi-Fi and pet friendly.
Maximum Occupancy: 6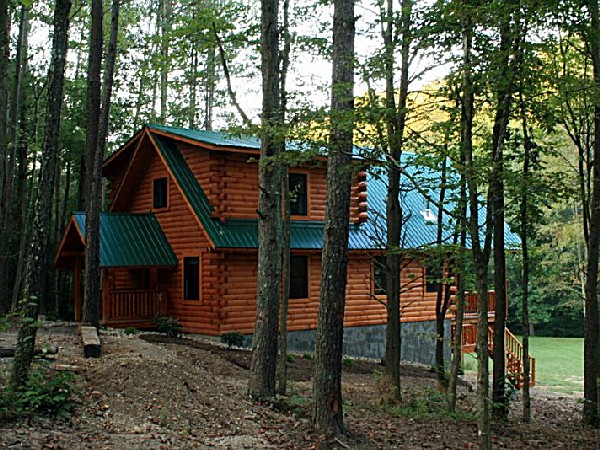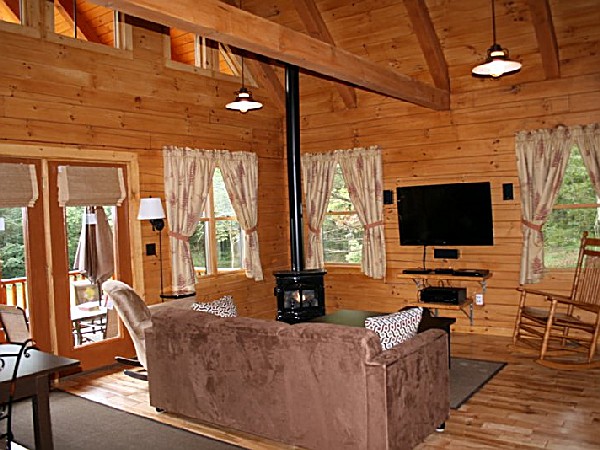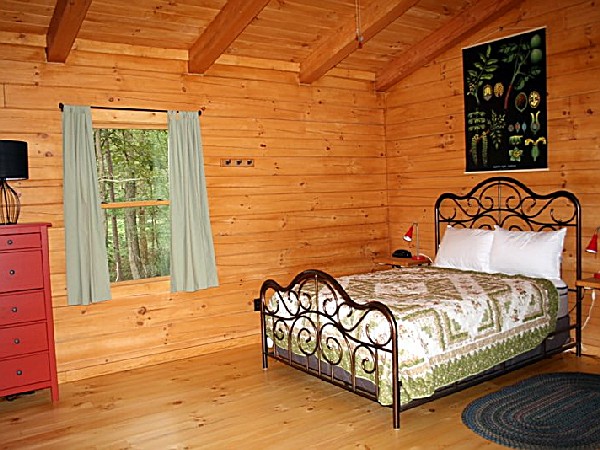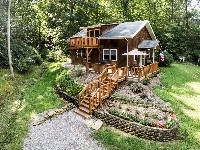 The Cottage
- The Cottage is a lovely, private home-away-from-home for 4. It includes a bedroom, a large loft bedroom, 2 baths, a full kitchen, decorative beams in the living and dining area, small upstairs deck and large patio downstairs. Hot tub Pet friendly WiFi
Maximum Occupancy: 4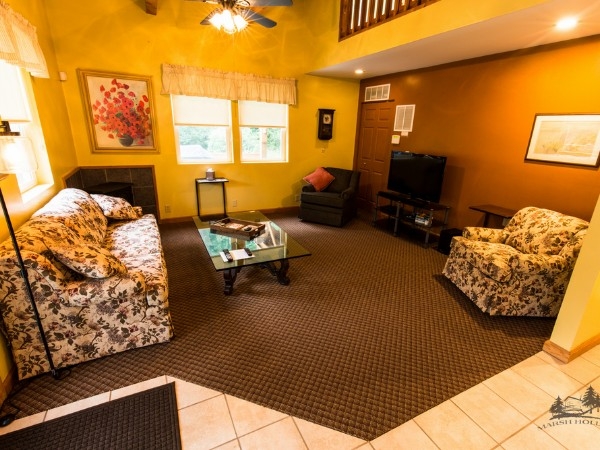 Combined Featured Amenites
(The most commonly requested Hocking Hills amenities are listed in bold)
•

Hot Tub


•

Firewood Provided


• Gas Log Fireplace
• Electric Fireplace
•

Big Screen TV


• Satelite Television
• DVD Player
•

Fire Ring


•

Air Conditioning


• High Speed Internet Access

• 1 Bedroom
• 2 Bedrooms
•

Queen Bed


• Sofabed / Foldaway
• 1 Bath
• 2 Baths
• Gas Grill

•

Suited for Children


•

Pets Allowed


•

No Smoking Inside


• Telephone
• Television
• Stereo System
• Board Games
• Movies

Visitor Reviews
Rating

5 out of 5

Cozy Getaway in Hocking Hills

Review Posted:

Apr 19

Date of Visit:

January

What a charming and comfy cottage for two! The cabin was the perfect size for privacy and close enough that you never felt lonely. The gas stove and floor heaters were able to keep us toasty warm and the ceiling fans were great too so the air was moving. The covered deck was spacious and the hot tub was exactly what we needed clean and easy to use with plenty of backyard privacy. Speaking of the backyard we brought our beagle so he had plenty of room to roam and the view was spectacular. There is so much lawn with privacy which was hard to find at other locations. Not to mention that John provided a ton of extras to our stay, soft robes for the hot tub, farm fresh eggs for breakfast and dry wood for considerate campfires. Overall this was one of the best Hocking properties I've stayed at and would definitely come again!
Rating

5 out of 5

MarshHollow

Review Posted:

Apr 16

Date of Visit:

April

Our stay was wonderful and comfy. Cabin is enjoyable. Maybe must one suggestion, to get a refrig with an ice maker. We forget how to make ice the old-fashioned way!! Otherwise, a wonderful experience.
Rating

5 out of 5

Feels Like Home at Pinewood Cabin

Review Posted:

Mar 25

Date of Visit:

March

We come to the Pinewood cabin about every year, to day hike in the forest and generally decompress at a dreary time of year March. Pinewood is the perfect size for two people, vs. most cabins sleeping a large family. The cabin sits in a private valley off a little used road, facing a wooded hillside that you can hike on if you want. It's clean, it's quiet, and it feels like home.
Rating

5 out of 5

Relaxing weekend getaway

Review Posted:

Mar 13

Date of Visit:

March

My wife and I stayed at the pinewood cabin for a quick weekend get away for her birthday. We loved the cabin and it is in a perfect location. We were also able to take our dogs and they loved the big open yard and the trails. We will certainly be back to stay.
Rating

5 out of 5

Great weekend get away!

Review Posted:

Mar 12

Date of Visit:

March

My husband and I spent a wonderful relaxing weekend in The Cottage. We loved how secluded it was, everything was just as described on the website. It was still a little cool, so we didn't get to enjoy a fire outside but we had plenty of firewood if we had chosen to do so! The property is very clean, and it was nice not being far from Laurelville or Logan so we had plenty of choices on dining. Very short drive to Old Man's Cave and Rock House. We will be returning hopefully in the summer for a weekend!
Rating

5 out of 5

Relaxation

Kirsten,

Cuyahoga Falls, Ohio

Review Posted:

Feb 28

Date of Visit:

February

My husband and I were looking for a nice quiet get away that wouldn't cost too much, and the Pinewood Cabin at Marsh Hollow was the perfect fit. We have stressful lives, and we needed to unwind. There are plenty of nearby sites to see and trails to explore, but we just wanted a couple of nights away so we could reconnect and relax. Pinewood Cabin is perfect whether you want to explore or just stay in. The hot tub was our favorite part! The cabin was so roomy and gorgeous with a breath taking view. It was clean and cozy with linens, dishes, books, games, movies, and a cute propane heater. We enjoyed the blue ray and chest full of board games a lot. Our dog was also very relaxed and overjoyed that he could come along. Check in and check out were so easy and hassle free. Plus, it was unbelievably affordable! We are so refreshed now! We will definitely be back. In fact, this could become an annual trip for us.
Rating

5 out of 5

A Great Getaway for an Anniversary

Review Posted:

Feb 16

Date of Visit:

February

The Cottage at Marsh Hollow was a great place to stay for a nice trip away from busy city life. The Cottage was very roomy, well kept, contained very nice amenities e.g. wifi, hot tub, and situated in a quiet and picturesque location among the hills. My girlfriend and I went here to celebrate our anniversary and it was a really great experience. I would definitely recommend that you check this property out for your getaway too! The owners and operations manager do really want you to have a great experience. I appreciated their welcome note, map of the area, and travel log where various visitors wrote about how they spent their time in the Cottage too.
Rating

5 out of 5

Wonderful!!!

Review Posted:

Jan 14

Date of Visit:

January

Our stay at The Cottage at Marsh Hollow was wonderful. We have stayed in many pet friendly cabins in Hocking Hills over the years and this was by far our best experience! The owners and caretaker, John, were very accommodating and allowed us to change the date last minute and check in early:) The Cottage is super clean, beautifully renovated, and incredibly cozy! We also enjoyed the trail on the property and so did our dogs. The Cottage is secluded and serene as well. We will be back and send our friends!
Rating

5 out of 5

Wonderful Cabin for Couples/Families/Dogs

Review Posted:

Jan 11

Date of Visit:

January

We decided to give Marsh Hollow a try after finding them on TripAdvisor. I'm so glad we did. It was one of the nicest cabins we've stayed in (Shadyside). Very clean, comfy furniture, plenty of space to stretch out. We typically use these types of getaways to completely unplug from the noise. There is no cell service at the cabin; however, they do have Wifi and Direct TV for those that need/want it. We were happy reading books by the gas fireplace and playing board games. The manager, John, was great from start to finish. We were so happy with our visit that we immediately booked next year's trip. Oh, and they are dog friendly!!!
Rating

5 out of 5

Our Stay at the Cottage

Review Posted:

Jan 2

Date of Visit:

December

We decided to stay at the Marsh Hollow's Cottage cabin to celebrate the New Year. Let me say..this is a beautiful cabin! Very clean, modern and very well kept up, beds were comfortable as well! The 4 of us had a great time there, and had lots of room. The last guest decided to hide 4 one dollar bills with clues. We found them all and continued the game hoping the next time we visit we will again find others continued this game. One of our guests had a flat tire and John was nice enough to come down and put air in it for them. Thanks so much to March Hollow and staff for making our New Year a great one, and we cant wait to come back later this year!
Rating

4 out of 5

Marsh Hollow- Pinewood cabin

Review Posted:

Dec 29

Date of Visit:

December

We loved our stay in the pinewood cabin! It was cozy and peaceful and just the right size for the two of us. We loved being able to bring our dog! It was affordable and comfortable, and we hope to return.
Rating

5 out of 5

Incredible

Steve,Joy and Faith,

Elberta,Alabama,States

Review Posted:

Dec 29

Date of Visit:

December

My wife and I came for Christmas and we had the most incredible time. The cabins are pet friendly and super clean. We had the best Christmas ever. We stayed in Pinewood and The Cottage, we made a last minute change to stay 2 extra nights, so we moved cottages, both were stunning. Faith loved the open spaces to run around in. We are already planning next Christmas. This is where you want to stay.
Rating

5 out of 5

Home away from home

Review Posted:

Dec 20

Date of Visit:

December

I've stayed at the cottage three times now and everytime it just gets better and better. Every season has something new to offer. I know my dog is welcome but when you enter, you would never know that pets have been there before. The best part about Marsh Hollow? The owners and manager! They take such good care of me everytime I come! Will be back for more visits in 2018!!
Rating

5 out of 5

Honeymoon Getaway

Review Posted:

Dec 4

Date of Visit:

November

My husband and I chose Shadyside at Marsh Hollow for our honeymoon. The cabin is beautiful and the location itself was lovely. It was just what we were looking for to get away from home for a few days and enjoy our time as newlyweds. It was close to Old Man's Cave (which I had never been to before) which is awesome, but honestly my favorite part was relaxing in the hot tub under the incredible about of stars you can see away from the city. We would love to go back again sometime soon!
Rating

5 out of 5

Shadyside Comfort

Review Posted:

Nov 28

Date of Visit:

November

We stayed at the Marsh Hollow Shadyside Cabin for Thanksgiving. This was our second visit to Shadyside. This cabin has so many nice little details that make it our choice whenever we come to the Hocking Hills. The cabin is immaculately clean. The beds, the linens, the pillows are so comfortable. The bedside lighting is perfect for reading, something we have found lacking in other cabins. We loved the large TV and the fact that the cabin has wireless internet. The kitchen is nicely equipped for cooking anything. We love the back deck which overlooks a large open yard. There is a brand new bridge leading to a hiking trail which loops up the hill and down. We took a lovely hike after dinner. The property is gorgeous. We didn't use the fire pit but it's located in a safe place and looks inviting. The manager, John, doesn't interfere, but we felt good knowing we could contact him. During our stay, we sent him two emails and he promptly replied. Highly recommend!
Rating

4 out of 5

Will definitely stay again

Review Posted:

Nov 28

Date of Visit:

November

Great place to stay great backyard. We had two small dogs with us that enjoyed getting to run around. Cabin was very clean well-kept only complaint was that the towels were a musty smelling. We enjoyed the use of the grill and the hot tub. Enjoyed watching movies on the DVD and just relaxing.Took advantage of the hiking trails as well as close to old man's Cave which was gorgeous Located close to other local attractions. Will definitely plan to stay again.
Rating

5 out of 5

Right near hikes in hocking hills!

Review Posted:

Nov 25

Date of Visit:

November

The cabin was clean and spacious and allowed pets which was perfect for us! We came for Thanksgiving and we were able to cook without a problem in the kitchen (we did bring some of our own cooking supplies just incase). Having access to wifi was great, especially since there is no cell phone service. Also having netflix and a nice sound system already set up was a really great extra. Finding the cabin wasn't that difficult and the instructions were nice and clear. I've spent 30-40 minutes looking for cabins sometimes in hocking but this was easy to find but also secluded enough. For a short stay (a week maybe) I would recommend this property.
Rating

5 out of 5

A lovely, quiet cottage

Review Posted:

Nov 23

Date of Visit:

November

My family stayed here for a quick, two night-getaway. We made the most of the amenities at this lovely, clean, quiet cottage. We brought food and made dinner at the cottage the first night and warmed up with the electric stove/fireplace and watched a movie. We took advantage of a sunny November day on the second day by hiking several caves nearby, and then soaked in the hot tub to unwind that evening. The cottage had everything we needed, including comfortable beds. Our seven year old loved the loft bedroom! We really enjoyed our short stay and would definitely come back again (maybe when it's warmer!)
Rating

5 out of 5

Serenity at Shadyside

Review Posted:

Nov 17

Date of Visit:

November

My husband and I stayed at Marsh Hollow's Shadyside Cabin from 11/12-11/14 as part of my birthday celebration. We could not have been more pleased. True to the pictures and description, it is an amazing cabin with a cozy gas fireplace, large TV, wonderful hot tub on the deck outside, and a fully equipped kitchen (cookware, silverware, plates, bowls, wine glasses, coffee mugs, corkscrew, everything you need!) The cabin itself is located on Marsh Hollow's property with a trail to hike in the back. Conveniently, it is also located about 8-10mi from other Hocking Hills hiking attractions such as Old Man's Cave, Ash Cave, Cedar Falls, etc. We were able to enjoy hiking there and then coming back to the cabin to lounge in the hot tub. Shadyside is also pet friendly, which played a big part in us choosing this particular cabin. It is SO clean though. I'm very picky about things being clean, and this cabin exceeded my expectations in every way. We would definitely return here.
Rating

5 out of 5

Marsh Hollow Pinewood Cabin

Review Posted:

Oct 15

Date of Visit:

October

What a beautiful and serene place to relax and enjoy the environment of Hocking Hills State Park. My wife and I have visited the Pinewood Cabin several times and have no reason to explore other places. We feel very comfortable and at home at this nice quaint location. You are in close proximity of Old Man's Cave, Cedar Falls and other highlights of the park system. The drives to the various points of interest and for hiking are very pretty and picturesque. We love the deck area just to sit, relax, sip on some wine and enjoy the scenery. Very peaceful surroundings to escape the noise of the city. The cabin is very clean and well maintained, has nice kitchen if you choose to cook your own meals, a grill on the deck. Also a very nice hot tub located on the deck. Bedroom offers comfort and bathroom is updated. Cabin is equipped with Direct TV and DVD unit to watch movies. This is your home away from home, but more relaxing! Must visit and am sure you will want to return!!
Rating

5 out of 5

Pinewood Cabin, Marsh Hollow

Review Posted:

Oct 15

Date of Visit:

October

If you're looking for a secluded get away in the Hocking Hills this is the cabin for you. My husband and I have stayed here many times over the years and we love it. It is rustic yet has everything you would need for a comfortable respite away from the city. We love it! Wish it were ours. Take time to look at the Marsh Hollow website to get a good view of the inside and the out. We are active walkers and it's easy to take a walk outside your door or on the many beautiful trails in the area. Once you go you'll want to go back.
Rating

5 out of 5

Marsh Hollow Shadyside Cabin

Review Posted:

Oct 10

Date of Visit:

September

We love our visits to Marsh Hollow. We rented the Pinewood (1 bedroom) last year and then rented Shadyside (2 bedroom) for our anniversary this year. Both were extremely well kept and very clean. John, the onsite manager is very accommodating. The trail behind the properties is fun to walk and very well marked, so you don't get lost. Next year we are going to rent the Cottage. Once we try them all, we will decide which is our favorite and then go back next year.
Rating

5 out of 5

Lovely stay

Review Posted:

Sep 28

Date of Visit:

September

The cottage at marsh hollow just exceeded our expectations it was such a cute little cabin. Everything was absolutely perfect and we can't wait for another weekend get away. This is our first choice of where we'd want to stay!
Rating

5 out of 5

Perfect getaway!!

Review Posted:

Sep 13

Date of Visit:

August

My husband and I and our dog stayed at the shadyside cabin. It was absolutely beautiful. The cabin is neat and very clean with everything you need except your food. We enjoyed the hot tub it was relaxing. We met John he was working on the new bridge (very nice guy).We live in northeast Ohio and to come to shadyside was a perfect getaway. Also we planned to come here last year but had a medical emergency. This family was amazing to work with. Thank you for sharing such a beautiful place!
Rating

5 out of 5

Shadyside Cabin - LOVED IT !

Review Posted:

Sep 9

Date of Visit:

September

I found this lovely cabin online and unlike others that didn't live up to the pics posted - this one certainly did. Staying at Shadyside was a highight of a quick 4 day vacation with my sisters. The cabin was supplied with extra's that I didn't expect - plenty of towels, paper products, speaker to use outside, and extremely CLEAN and well taken care of. The views were spectacular and the hot tub was wonderful. When we couldn't get the DVD player to work (4 women) - the owner was there in a few minutes to help us with it. I highly recommend this beautiful cabin to anyone that's looking for a beautiful getaway. You will not regret it !
Rating

5 out of 5

Pinewood Cabin - Wonderful Getaway

Review Posted:

Sep 6

Date of Visit:

July

My husband and I (and our dog) have been visiting the Pinewood Cabin for four years now, our latest stay being in July of this year. We absolutely love this place; it is charming, peaceful, clean and comfortable, with everything we could need or want - the perfect home away from home. When we don't feel like lounging around the cabin, there are trails to hike out back, and many of the popular parks and attractions are only a short drive away. We're very happy to have found this gem of a place and will continue to visit whenever we get the chance to.
Rating

5 out of 5

Family Vacation

Review Posted:

Aug 25

Date of Visit:

August

Stayed at the Cottage. Had a great time. It was a very clean place. Reasonably close to everywhere we wanted to get while still giving us a quiet retreat.
Rating

5 out of 5

Our Stay at The Cottage - 816/18

Review Posted:

Aug 24

Date of Visit:

August

We couldn't have been any happier with our stay at The Cottage. Upon driving up the driveway it appeared just as it was on their website and inside was beautiful. It was spotless and as they had stated everything was provided from all linens and plush robes to a fully equipped kitchen. The manager, John was helpful with dining tips and they provide a notebook with all the instructions on how everything works in the cabin and descriptions of local restaurants and maps on local points of interest. My husband just finished 9 weeks of radiation and this was just the relaxing, peaceful vacation we needed. Our friends from Cincinnati who joined us we just as impressed with everything. We're already talking about a return visit. The 2 bedroom-2bath accommodations were ideal for the 4 of us We can't say enough great things about The Cottage - it was definitely one of our BEST vacations - I only wish we could have stayed longer!
Rating

5 out of 5

John & Bev Sullivan

Review Posted:

Jul 22

Date of Visit:

January

Most everything was great as usual. Maybe I just know how to do it, but I missed the music that we could hear on the porch and in the hot tub.You switched to direct tv. I couldn't find any music stations on Directv. The cabin is the very definition of rustic. Back to nature is the motto. Quiet and restful is what we seek and we found it. We will always return to Marsh Hollow.We have recommended the property to others. They have stayed in Marsh Hollow. Another one of my friends is set to book a Marsh Hollow property in the near future. John Sullivan
Rating

5 out of 5

Shady side cabin was amazing!!!

Review Posted:

Jul 1

Date of Visit:

June

This cabin was absolute perfection! There was the perfect mix of being able to unplug and connect with nature and also enjoy the creature comforts of a relaxing vacation. Very impressed with the quality of the cabin as well as the management of the property. We definitely would highly recommend this cabin to anyone visiting this area!
Rating

5 out of 5

Beautiful spacious cottage

Review Posted:

Jun 25

Date of Visit:

June

We stayed at the Marsh Hollow Cottage. It was very clean/roomy and well taken care of. The landscaping was beautiful. We enjoyed the fire pit and hot tub and the loop trail on the property was great. We loved that it was pet friendly so we could bring our cat and dog! We are already thinking about going back next year.
Rating

5 out of 5

Shadyside

Review Posted:

Jun 21

Date of Visit:

June

Great place! 2nd year and most likely every year if we can. Luv it.
Rating

5 out of 5

Wonderful!!!

Lucasmama2,

Ashtabula, Ohio

Review Posted:

Jun 18

Date of Visit:

June

We stayed at The Cottage and it far exceeded our expectations. We've stayed at several different properties in the Hocking Hills area over the years and The Cottage was by far the best. We brought our 16 year old twin boys and when we walked in they were in AWE! They loved it. They stayed upstairs in the loft area and they really enjoyed sitting on the balcony. The pictures on the website looked good to us, which is why we initially chose The Cottage, but they actually don't do it justice. It was beautiful. There were so many things that stood out to me with this property, but one of the biggest was just how quiet and peaceful it was. In my every day life I rarely get to experience ACTUAL quiet, but I did at The Cottage. The kitchen was VERY well equipped, the games in the cabinet were a great idea and we really enjoyed the hot tub and fire pit. The towels were soft and the beds were very, very comfortable after a long day of hiking. It was also EXTREMELY clean and that made me very happy. I'd actually like to say Thank You to Dave and Mary for providing such a wonderful product at such a great price! We will definitely recommend this property to others and we can't wait to come back!
Rating

5 out of 5

Super cozy pet-friendly cottage

Tree Whisperer,

Newark, Ohio

Review Posted:

May 29

Date of Visit:

May

The cottage was clean and cozy, and the property was large and private. There were two full baths (which a lot of the 4-person, pet-friendly accommodations in the area didn't seem to offer when I researched them). The wi-fi worked well, and the landline was appreciated. Other nice features: hot tub, robes, gas grill, fire ring with complimentary firewood, carport, Netflix, recycling bin
Rating

5 out of 5

Amazing stay

Review Posted:

May 27

Date of Visit:

May

We had an amazing time at Hocking Hills. We spent 3 days at the Pinewood Cabin at Marsh Hollow. The cabin was clean and well stocked with anything we needed. It was so secluded and peaceful there. We loved the Hot tub and the deck! We brought our dog and she loved running in the big open field next to the cabin. We also loved seeing all the wildlife. Thanks so much for everything! We can't wait to return.
Rating

5 out of 5

Everything we hoped for and more!

Review Posted:

May 15

Date of Visit:

January

This rustic log cabin was just as gorgeous as in the pictures and it had all the comforts of home...except maybe for a washer/dryer; but since we had no intention of doing laundry on vacation, we didn't mind that at all. The whole place was spic and span from top to bottom. The bathrooms were clean. The hot water after a day out hiking was glorious. The microwave and oven were also amazingly clean. We appreciated the working kitchen, complete with dishes, cutlery, grilling utensils, pots & pans, relatively sharp knives. The dishwasher made clean up that much easier. We thought it was spacious enough for a family of 6, thanks to an electric airbed that basically self-inflated. We played board games on the kitchen table, but there was a table and chairs on the deck as well. The living room was comfy--there was ample couch seating so we could all cozy up and watch DVD's at night. We enjoyed roasting marshmallows and little smokies on the fire. The one thing we did not get to try was the hot tub...maybe next time. Be warned about the steep (almost blind) crossing on Wagner road, about a mile from the cabin...we were warned about this on the instructions, but it still was a surprise, coming across it. The parking spots by the cabin were on a steep incline as well and could be tricky on a wet day. The telephone in the cabin was helpful because cell coverage was spotty at best. Finally, we truly appreciated the welcome binder and Hocking Hills magazine that gave us lots of ideas of what to do--the spectacular Rock House, Old Man's Cave and Cedar Falls were not too far a drive away. We loved this place and we will definitely be back!
Rating

5 out of 5

Our Stay at The Cottage

Review Posted:

May 8

Date of Visit:

May

The Cottage was spacious, inviting, and an overall stellar experience for me, my wife, and our two dogs. It's also a short distance to some excellent scenic destinations in Hocking Hills. We recommend staying here, and we plan to come back too!
Rating

5 out of 5

Hocking hills cabin

Review Posted:

May 6

Date of Visit:

May

Best Vacation Ever! Beautiful cabin
Rating

5 out of 5

Great place

Review Posted:

Apr 28

Date of Visit:

April

Love the cabin great people well managed so nice and relaxing
Rating

5 out of 5

Wonderful mini vacay!!!!

Mystee and Sam,

Fort Wayne

Review Posted:

Apr 10

Date of Visit:

April

This was our first trip with both kiddos and dogs. As soon as we walked in Shadyside cabin, we felt right at home. It was so cozy and clean! We really enjoyed the trail behind the cabin. The little gnomes and rabbits were so cute! The kids and dogs loved the creek and the large yard to run around. We cooked on the fire pit and relaxed in the hot tub. Loved our trip to Old Man's Cave, Ash Cave, and Cedar Falls--only 20 minutes away. The trails were beautiful! We will definitely be back. Thank you for an amazing mini vacay!
Reviews are the subjective opinions of Hocking Hills visitors and not of HockingHills.com
Web Site:
www.marsh-hollow.com