Hickory Hill Lodge
Hickory Hill Lodge

Rocky Fork

Logan, Ohio 43138

Phone: 614-864-3071

Web Site:

www.hickoryhilllodge.com

Property Overview

Located on a wooded lot overlooking a beautiful ravine. Hickory Hill Lodge sleeps up to 18 people and is supplied with all new amenities. The large well-lit covered deck is a great place to visit with family and friends. It has seating for meals and enough room to play a corn hole game on the deck.



Accommodations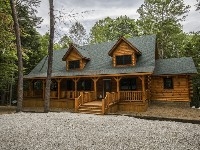 Hickory Hill Lodge
- This cabin sleeps 18 guests with 6 bedrooms and 3 bathrooms. It includes activities such as a pool table, arcade game, hot tub, and a wood burning fireplace and space for friends and families to visit. It is less than 15 minutes to area attractions.
Maximum Occupancy: 18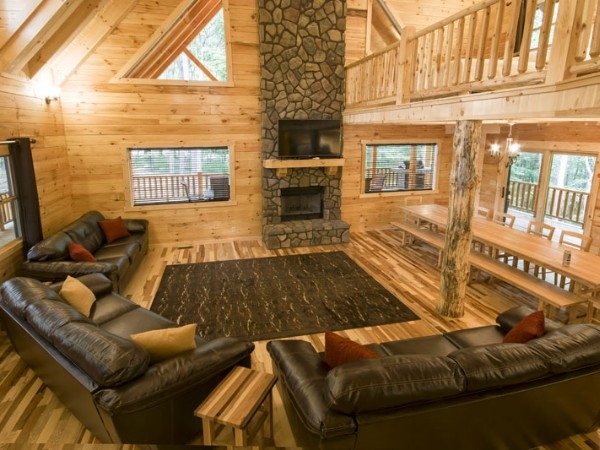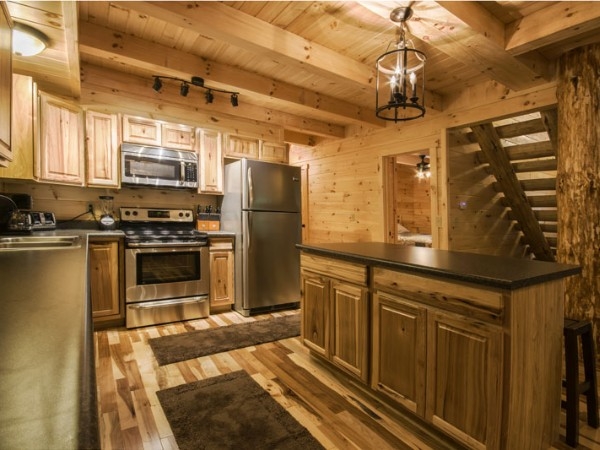 Featured Amenites
(The most commonly requested Hocking Hills amenities are listed in bold)
•

Hot Tub


•

Wood Burning Fireplace


• Satelite Television
• DVD Player
•

Fire Ring


•

Air Conditioning


• Pool Table

• 5+ Bedrooms
•

Queen Bed


• Bunk Bed
• 3+ Baths
• Gas Grill

• Laundry Facility
•

No Smoking Inside


• Telephone
• Television
• Board Games
• Movies
• Arcade Game
•

Game Room



Visitor Reviews
Rating

5 out of 5

Hickory Lodge- Hocking Hills

Alyssa,

Hocking Hills, OH

Review Posted:

Feb 25

Date of Visit:

February

We stayed in this cabin this past weekend for a bachelorette party. The cabin was beautiful, clean, and all amentities/appliances worked as they should have. The staff responded immediately with questions and were very helpful. I would recommend this to anyone looking for a nice getaway for any occassion.
Rating

5 out of 5

Hickory Hills Lodge was Amazing

Review Posted:

Jan 22

Date of Visit:

January

This was an amazing lodge We have stayed in several places in hocking Hills, and this was by far the best. The bedrooms were comfortable, the massive dining table was great for games, and the porch was great for cornhole even if it rained. Not a thing we would change about this place. 5 stars. We will definitely stay again. Thanks for having us
Rating

5 out of 5

Hickory Hill Lodge

Review Posted:

Jan 16

Date of Visit:

January

Perfect layout; clean, great seating & sleeping accommodations for a larger group. Julie & Jason Hill were wonderful to work with!
Rating

5 out of 5

Fantastic place!

Michael,

CLEVELAND HEIGHTS, OH

Review Posted:

Jan 3

Date of Visit:

December

Absolutely delightful space. Well laid out, airy, and filled with light. The kitchen was exceptionally well appointed, with a new dishwasher, and the washer and dryer were new as well. Everything was clean and ready for us upon arrival. Everything worked easily and as expected. Beyond what we expected - had a video game system, satellite in basement and 3rd floor, slow cooker waiting for us if we needed it. Highly recommend! Only things we would change (though most can't be :) ) - no cheese grater (really, the kitchen was VERY well appointed!) - no garbage disposal (probably bc the septic system) - no door to basement (so sounds came up from kids)
Rating

5 out of 5

Great time

The Noble Savage,

Westlake, OH

Review Posted:

Oct 17

Date of Visit:

October

Spent the weekend at Hickory Hill Lodge. The family room and kitchen area are large and comfortable. The outdoor, wrap around deck is amazing. The kids LOVED the downstairs and the arcade game and pool table. Hot tub was also a big hit. Everyone asked to come back again next year. Highly recommend.
Rating

5 out of 5

Fantastic!!!

Review Posted:

Oct 8

Date of Visit:

September

We all were very impressed with the beauty and space of the lodge. 4 grown couples & 4 children and there was so much room no one felt crowded! There was also so much to do , not only in the area , but in the lodge itself. A lot of time was spent on the beautiful wrap around deck! We're already talking of visiting again! Thank you helping to make wonderful family memories!
Rating

5 out of 5

A great place for family to gather!

Review Posted:

Oct 3

Date of Visit:

September

My son was married in the Hocking Hills area so we had family in from all over the country. Hickory Hill Lodge was perfect! First of all it was spotlessly clean. We had everything we needed. The beds were comfortable, the towels were fluffy, the hot tub was fresh and hot and the common areas were large and well decorated. The kitchen was very well supplied, including nice wine glasses and dishes of all shapes and sizes. The Hills were easy to work with and very accommodating. I strongly recommend Hickory Hill Lodge as a lovely place to stay!
Rating

5 out of 5

WONDERFUL STAY, EVERYONE WANTS TO COME BACK!!!

PMRYAN,

Tipp City, OH. USA

Review Posted:

Jun 25

Date of Visit:

June

Hickory Hill Lodge is a wonderful facility. Everything was as promised. They advise guests that all they need to bring is food, ice,firewood and personal items is a true statement. Anything else you need is there! I got all the credit for picking the place and how great it is, and I thank Hickory Hill Lodge owners and staff for that. I highly recommend this Lodge, you won't be disappointed. We will be back!!!!!
Rating

5 out of 5

Amazing stay

Review Posted:

May 8

Date of Visit:

May

Hickory lodge exceeded our expectations. What a beautiful, immaculate kept home!! Thank you for the many accommodations provided at the lodge. We will definitely recommend to friends and family, and we hope to return in the near future! Thank you!! :)
Rating

5 out of 5

Beautiful home - highly recommended!

Deb Purman,

Springboro, Ohio

Review Posted:

Oct 23

Date of Visit:

October

We have rented from the Hills before and have never been disappointed! This brand new home exceeded our expectations with all the modern amenities you could ask for! The video games were a huge hit and were cause for some big celebrations from the young and old! Thanks for opening your beautiful home to us and we can't wait to come back next year!
Rating

5 out of 5

Family Getaway

Goldilocksgirls,

Indianapolis

Review Posted:

Oct 19

Date of Visit:

October

Our trip to the Hickory Hill lodge was a welcomed getaway from the day-to-day. We had a minor issue at arrival, but the owners took care of everything we needed right away. The cabin is as advertised, plenty of seating on fine leather couches, big screen TV's, satellite TV, billiards, arcade, hot-tub, fire pit with firewood ready. Large deck with corn-hole game and gas grill made dinners a snap every night. Lots of bedrooms with nice bedding and bathrooms fully stocked. We took advantage of the locality but visiting Old Man's Cave, The Rock House and Lake Logan. Had a grand adventure at nearby R Adventure Park and canoeing on the hocking river. Would recommend this cabin to all interested in luxury in a serene setting.
Rating

5 out of 5

WOW!

Review Posted:

Jul 5

Date of Visit:

July

Everything about Hickory Hill is what a lodge should be. Great patio and wonderful atmosphere. A true getaway. We will be returning in the fall. Thank you so very much.
Rating

5 out of 5

HICKORY HILL LODGE STAY JUNE 15

Review Posted:

Jun 20

Date of Visit:

June

We had originally reserved the Pine Hill Lodge, to celebrate our daughter and future son in laws engagement with both families staying together. There was an incident that happen the day prior to our visit with the Pine Hill Lodge. Julie & Jason went above and beyond to get my family the vacation we were looking forward to. they emailed me, texted and called until they got a hold of me. when we seen this cabin instead of the one we initially rented we were amazed at the beauty and spacious room this cabin had. we had plenty of room and equipment at the cabin to make our stay comfortable. We loved it so much we asked if we could rent it an extra night. i would definitely recommend this cabin. my Daughter and son in law plan on spending their honeymoon in Hocking Hills although this cabin is too big for the two of them we will plan on looking into renting from Jason & Julie in the future.
Reviews are the subjective opinions of Hocking Hills visitors and not of HockingHills.com
Web Site:
www.hickoryhilllodge.com