Eagle View Lake House
Eagle View Lake House

30293 Lake Logan Road

Logan, Ohio 43138

Phone: 740-808-3354

Web Site:

www.eagleviewlakehouse.com

Property Overview

Eagle Management of Hocking Hills, LLC offers 3 unique properties for you to choose from. Eagle View Lake House is located on Lake Logan in the Hocking Hills. The Lake House offers awesome views from the large, private deck, and steps to the lake for some fishing. On the deck you will find a 6 person hot tub and a granite top bar for your enjoyment. Inside we offer 2 bedrooms both with queen beds and hand crafted headboards, a queen size sleeper sofa, 50 Flat screen TV, Directv, DVd player, fully stocked kitchen with stainless steel appliances and much, much more. Eagle View Retreat is a log cabin that sits high on a hill. It features 4 bedrooms, 2 baths, 2 TV areas, Wifi, 6 person hot tub, full kitchen, charcoal grill, outdoor fire ring, large front porch to see the awesome sunsets and is conveniently located to all attractions. Eagle View Escape offers huge rock formations and is conveniently located. It features 4 bedrooms, 2 baths, 55 Flat Screen TV, Cable TV, Wifi, 6 person hot tub, large deck with charcoal grill, outdoor fire ring and much more!


Category: Hocking Hills Cabins
Accommodations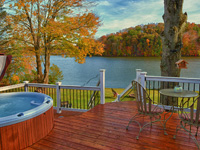 Eagle View Lake House
- Located on Lake Logan, this 2 Bedroom house has been tastefully decorated with custom made queen beds that have an awesome view of the lake, leather queen sleeper sofa, full kitchen with Stainless steel appliances, 6 person Hot tub, granite top bar on dec
Maximum Occupancy: 6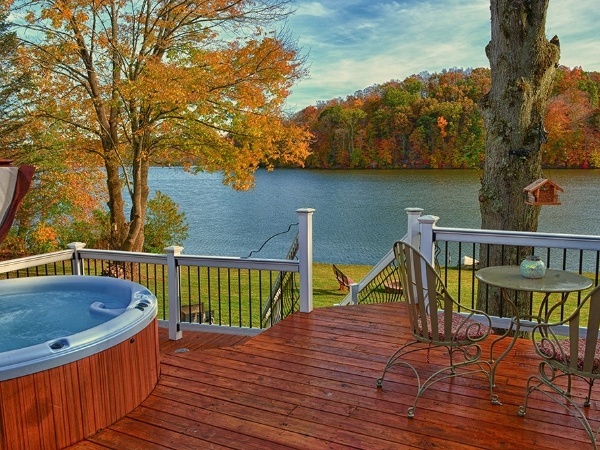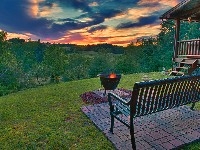 Eagle View Retreat
- Beautiful log cabin with 4 bedrooms, 2 baths, tastefully decorated with full kitchen, stainless steel appliances, leather furniture, 6 person hot tub, fire ring and awesome sunset views. Convenient location to State Parks, Lake Logan and places to eat.
Maximum Occupancy: 10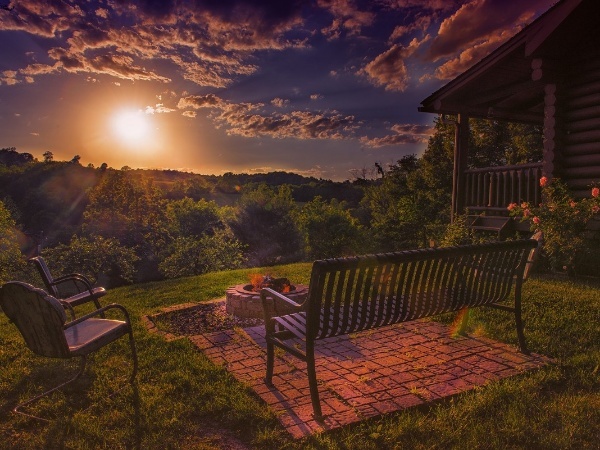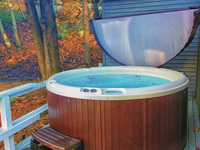 Eagle View Escape
- Eagle View Escape has just received a full renovation which features 4 bedrooms and sleeps up to 10 guests, 2 full baths, dining room, kitchen with pots/pans,etc., large deck, 55 TV, wall mounted electric fireplace and much more.
Maximum Occupancy: 10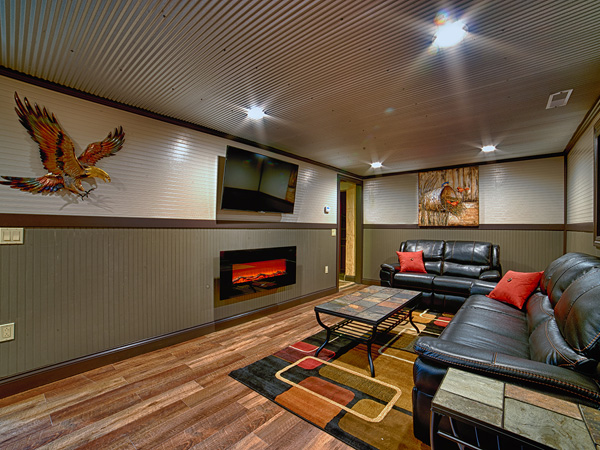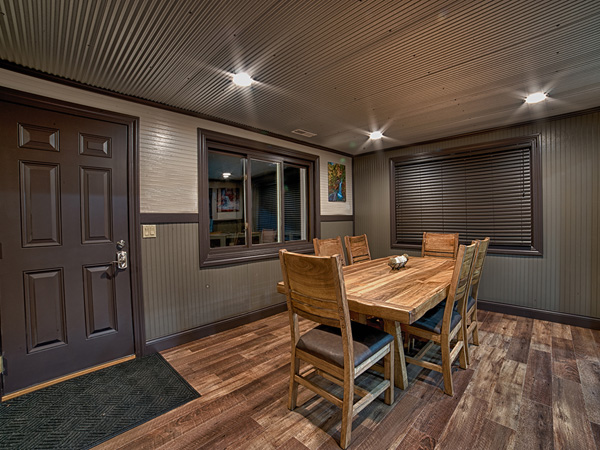 Combined Featured Amenites
(The most commonly requested Hocking Hills amenities are listed in bold)
•

Hot Tub


• Electric Fireplace
•

Big Screen TV


• Cable Television
• Satelite Television
• DVD Player
•

Fire Ring


•

Air Conditioning


• Fishing On Site
• Swimming Lake/Pond On Site
• High Speed Internet Access

• 2 Bedrooms
• 4 Bedrooms
•

Queen Bed


• Bunk Bed
• Shower Only
• 1 Bath
• 2 Baths
• Charcoal Grill

•

Suited for Children


•

No Smoking Inside


• Telephone
• Television

Visitor Reviews
Rating

5 out of 5

Home away from home

Review Posted:

Aug 24

Date of Visit:

August

I have stayed at Eagle View several times over the past few years and each time I stay, I grow in fondness of it. The Lake House is so beautifully staged and homey and offers comfort in all respects. I especially enjoy beginning my day on the deck and lakefront so that I can enjoy watching the creatures begin their day. I've photographed hummingbirds, deer coming down to the water's edge for morning refreshment, water fowl of various sorts, hawks, squirrels and, of course, the eagles!! We love spending our afternoons hiking and then restoring ourselves in the hot tub at day's end as the sun sets. What could be better? There is no better location or opportunity for a complete getaway experience at Lake Logan than Eagle View Lake House.
Rating

5 out of 5

AMAZING GETAWAY

Chip and Cassie,

Morenci, Michigan

Review Posted:

May 18

Date of Visit:

January

The Lakehouse was beautiful. We especially enjoyed the extra touches (photos of the caves, DVD selections, labels on the remote controls, fans in the bedroom, you have thought of everything). It was a much needed getaway from our stressful lives, to a very peaceful place. We brought our kayaks and went on Lake Logan. The weather was beautiful, the caves were amazing, and we had a wonderful time. It was the best Mother's Day!! Our kids are 14 and 15 and growing up way to fast. We hope we are able to make staying at Eagleview a yearly thing. The owners are wonderful. Thank you Shelley!
Rating

4 out of 5

Relax Weekend

Review Posted:

Mar 8

Date of Visit:

January

Very clean and recently renovated house on Lake Logan. The view from the back deck was beautiful and the hot tub was great. Perfect for our weekend get away. Old Mans Cave was just 11 miles away. Nice and comfortable.
Rating

5 out of 5

Amazing Trip

Review Posted:

Jan 29

Date of Visit:

January

Thank you for allowing us to stay at your lovely lake house. We had cozy and relaxing weekend. The house was gorgeous and the view is beautiful. Thank you again We cannot wait to stay again. Kristen & Joe
Rating

5 out of 5

Eagle View Lake House a 5 star getaway

Review Posted:

Jan 18

Date of Visit:

October

Upon arrival at the Eagle View Lake House my wife and I were very pleased with the selection we had made. The Lake House setting was perfect, we enjoyed a breathtaking sunset as well as the beautiful sunrise. The Lake House was beautifully decorated inside and out, and the attention to detail on the rustic hand made furniture was amazing. The two level deck out back was very private and provided a 6 person hot tub on the lower level.The lighting was soft and romantic and the custom bar with granite top added charm and class to the area. If you plan to visit the Hocking Hills we recommend Eagle View Lake House. It is very close to many local eateries, and easy to locate of of US 33. The owners Mike & Shelly were great sources of information on local history, landmarks and places of interest. We will return.
Rating

4 out of 5

Beautiful & Clean

Michael Harder,

Martin, Ohio

Review Posted:

Sep 10

Date of Visit:

August

Thanks so much for your hospitality! Cottage was so beautiful & clean. The deck & swing were great. Hope to rent again! Mike & Shelley
Rating

5 out of 5

We loved everything!

Review Posted:

Sep 10

Date of Visit:

September

We loved everything about this place. We were amazed by all the great details that help make this place perfect. A great place to spend our honeymoon! We hope to come back soon. Justin & Heather
Rating

5 out of 5

Just what I was looking for!!!

Review Posted:

Jun 5

Date of Visit:

May

I was looking for a place to stay over the Memorial day weekend on short notice and I found the Eagle View Lake House. Did I find a treasure! Shelley was easy and great to deal with on setting up my visit. The property was tremendous and exceeded my expectations. The house was clean with modern appliances and the view off the deck was incredible. I will definitely be revisiting the Eagle View Lake House again.
Rating

5 out of 5

Very nice!!

Review Posted:

Jun 2

Date of Visit:

May

Thank you, very nice cottage. We enjoyed the quick trip to Nelsonville. Nice hot tub with a view. We will refer to others in Columbus.
Rating

4 out of 5

This place is great!

Review Posted:

May 26

Date of Visit:

May

We had an amazing time! This place is great. It was clean and new and everything we thought it'd be. Thank You! Bryce & Megan
Rating

4 out of 5

Your cabin is luxury!

Review Posted:

May 26

Date of Visit:

May

Wonderful get away for us. Your cabin is luxury! We have rented by VRBO many states and you have it well equipped. The nature and all its beautiful scents were wonderful. Fran and Dan
Rating

5 out of 5

Love in the air!!!!

Review Posted:

May 21

Date of Visit:

May

Thank you so much for letting us feel the love. This place is beautiful and worth.... We really had a good time. Hari & Durga
Reviews are the subjective opinions of Hocking Hills visitors and not of HockingHills.com
Web Site:
www.eagleviewlakehouse.com