Creek's Crossing Cabins
Creek's Crossing Cabins

18572 Hockman Rd

Rockbridge, Ohio 43149

Phone: 740-385-4501, 740.739.7878

Web Site:

www.creekscrossingcabins.com

Property Overview

BEAUTIFUL cabins with homespun charm! Breathtaking views! Sleeps 2-16. Huge porches, fully equipped kitchen, Jacuzzi Tub Preserve Cabin, Pool Table, Foosball/Air Hockey, Satellite TV/DVD, Gas Grill, Fire Ring. Great romantic getaway, retreats, hunting, or any group gathering. Come enjoy Hocking Hills on us!

Category: Hocking Hills Cabins
Accommodations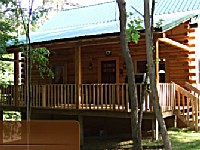 The Cabin at the Preserve
- Authentic Lincoln Log Cabin 2,200 sq ft, sleeps 2-12, Huge Porch, Gorgeous Views, Fully Eqpt'd Kitchen, Pool Tbl/Game Rm, Satellite TV, Jacuzzi Tub, Gas Grill/Fire Pit. Less than 5 miles to Old Man's Cave.
Maximum Occupancy: 12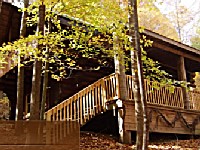 The Cabin at Elkins Pass
- Cabin on 72 acres surrounded by 16,000 acres of State Forest. The massive logs create a lodge-style retreat - a welcome haven for any group. Sleeps 2-16, Huge Porch, Great View, Fully Eqpt'd Kitchen, Pool Tbl, Satellite TV, Gas Grill Fire Pit.
Maximum Occupancy: 16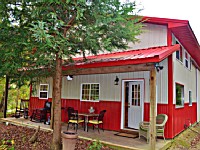 Creekside Cabin
- Nestled in Hemlocks by Big Pine Creek this new unit has lots of charm for 2-6 people, with a gas fireplace, wood interior walls, fully equipped kitchen, gas grill, close to all Hocking Hills Parks, and more...
Maximum Occupancy: 6
Combined Featured Amenites
(The most commonly requested Hocking Hills amenities are listed in bold)
• Gas Log Fireplace
• Satelite Television
• DVD Player
•

Fire Ring


•

Air Conditioning


• Pool Table

• 1 Bedroom
• 2 Bedrooms
• Full Bed
•

Queen Bed


• Bunk Bed
• Futon
• Sofabed / Foldaway
• 1 Bath
• Gas Grill

•

Suited for Children


•

Pets Allowed


•

No Smoking Inside


• Television
• Stereo System
• VCR Player
• Foosball Table
• Movies
•

Game Room



Visitor Reviews
Rating

5 out of 5

relaxing

Review Posted:

Jul 16

Date of Visit:

June

Very quaint and relaxing. We enjoyed the peacefullnes of the wooded area. The cabin was exceptionally clean and had everything we needed in the kitchen. It was also located centrally to all the sites we wanted to visit from creek walking, horseback riding, cave hiking and canoeing. We would definitely return.
Rating

5 out of 5

Creeks Crossing

Review Posted:

Dec 13

Date of Visit:

January

Several years ago, we celebrated our wedding anniversary at the cabin at the preserve, one of creekscrossing's three cabins. All of our reservations were handled via the telephone or internet and we kept coming back. When we stayed there during a major snowstorm, the owners (Gary and Karen Bocock) were trapped in the cabin from lunch time until our very late arrival by a group across the road who had managed to slide multiple cars into the ditch, blocking the road for hours. We invited Gary and Karen to have dinner with us and a friendship developed. We've always had a great time and been extremely satisfied. Last year, we also stayed in their creekside cabin across the road and were equally happy. We've become more than regular customers; we've become friends. Gary introduced me to the two nearby nature preserves when we went hiking together and now I always get an access permit from ODNR before visiting. Both cabins are attractively decorated and have outdoor seating around a fire ring. Sitting around the fire looking at the stars, I feel my job stress fade away and always hate to leave. If you're looking for a lovely, comfortable place to stay, I highly recommend CreeksCrossingCabins.
Rating

3 out of 5

Great location, lovely cabin

Review Posted:

Dec 11

Date of Visit:

December

We enjoyed 3 1/2 days at "The Preserve," located on Hockman Road, just a few miles from Hocking Hills State Park. The cabin is SO conveniently located to the park and several other nature preserves. It is in a lovely setting, surrounded by woods and hills. The cabin is very clean with lots of amenities (pool table, foosball table, fire pit, large outdoor porch with table, etc.). It is extremely comfortable and has that "home" feel. My only real issues are that the layout is a bit strange, particularly in regards to the bathrooms. None are directly connected to the bedrooms, and there is none at all upstairs. This means that people sleeping upstairs will have to go downstairs to use the bathroom. The main floor bathroom is directly connected to the kitchen, which is a bit odd. Still, this place is wonderful, and the hosts are friendly and helpful.
Rating

5 out of 5

Wonderful Cabin!

Review Posted:

Dec 3

Date of Visit:

October

We stayed at the Cabin at the Preserve in mid-October. This is such a beautifully planned-out space – I could have lived on the front porch forever! It was the perfect get-away for our family and I would love to experience it in every season. We will definitely be calling to plan another visit. Karen and Gary made this such a nice experience from the first phone call and were very accommodating to our schedule. The cabin was perfectly positioned for easy access to all the main Hocking Hills attractions and other "gems" like the Salt Petre Preserve. This was a fun adventure all-around for myself, my husband and two boys (14 & 12) and my parents. The cabin had plenty of space for us all to feel very comfortable. My boys asked "Mom, why can't we live in a place like this?". We will not look elsewhere the next time we go to Hocking Hills.

Management Comment:
Thank you so much for your review! We love all that cabin offers & glad to hear your entire family enjoyed it. Saltpetre Caves is a hidden gem... glad you explored that Preserve by our property. Looking forward to having you back in the future.
Rating

5 out of 5

Preserve cabin

Review Posted:

Nov 30

Date of Visit:

October

The accommodationa are great. The scenery is beautiful! This is the 2nd time I've stayed at one of your cabins. They are clean and comfortable! Annnnd Gary and Karen are very wonderful people! I wouldn't want to spend my time or money looking for a better place to stay and get away from it all. Tom and friends

Management Comment:
Thanks so much for giving us your 5-star review. Glad to see that you are a repeat customer, and enjoy what our cabins offer. Our Preserve Cabin where you've stayed is more like a log home with several different areas to getaway and hang out. Glad you found the cabin clean and comfortable. Looking forward to having you back in the future!
Rating

5 out of 5

Excellent

Review Posted:

Nov 29

Date of Visit:

January

Loved our stay at the cabin. Everything was as described on line. Thank you so much Gary and Karen!!

Management Comment:
Thanks for your 5-star review! Glad that you enjoyed our Preserve Cabin. We strive to make our cabins clean and welcoming, from the extra amenities and finishes, to the music playing when you arrive -- hoping to take you immediately into vacation mode! Hope to have you back, and your group can enjoy our extra bathroom and bedroom we have now.
Rating

5 out of 5

Creek's Crossing Cabins

BldMaldonado ,

Pataskala, Ohio

Review Posted:

Nov 28

Date of Visit:

January

Our family of seven more than comfortably stayed in the two bedroom, loft, and basement cabin. We enjoyed playing the games, and watching the movies that were provided. The kitchen was stocked with dishes, and utensils, and our whole family fit at the dining table together. The front porch was beautiful to sit on and take in the scenery. The campfire with seating was a favorite for our kids. We all wished we could have stayed longer! Such a wonderful place!

Management Comment:
Thanks for taking the time to give us your 5-star review! You stayed at our Preserve Cabin with the huge front porch overlooking the Sheick Hollow State Nature Preserve. Next time you come you'll need to go creek stopping with the kids at the edge of our property. Thanks again, and hope to have you back in the future.
Rating

5 out of 5

A great place to make memories!

Review Posted:

Dec 17

Date of Visit:

October

We rented both the Creekside and the Cabin at the Preserves for a family reunion. It was perfect!!! We planned on hiking and exploring the natural preserves surrounding us, but the layout of the cabins, fire-pit area, porch, pool tables and board/card games made it too perfect for the family to create memories and catch up...no one wanted to leave the cabins, more importantly, each other. I would definitely go back and recommend to others. Although no one was able to get phone service from the cabins, we could walk up the hill about 100 yards and get connected. It was nice having everyone unplugged and in tune with each other for a whole weekend. Even the kids and young adults learned they loved it too, surprisingly.
Rating

5 out of 5

BEAUTIFUL! Great Owners!

Review Posted:

Jul 15

Date of Visit:

June

We stayed for 4 nights @ the Cabin at the Preserve. This lincoln log cabin is so incredibly beautiful, comfortable, peaceful, well equipped... we literally could not have asked for more. We stayed with teenage boys and a teenage girl, as well as an 8 yr old boy. I think they spend more time outside at this cabin than they spent collectively over the past year!! Surrounded by a nature preserve, there is plenty of wilderness to explore. They found turtles and frogs and crawdads... they played in the woods and in the creek. And when it rained they played pool and foosball in the gameroom, and we played Life and Monopoly... and in the evening they watched Cinderella, The Little Memaid, Beauty and the Beast & the Lion King... all either on VHS or DVD, provided in the cabin. We grilled out and dined on the beautiful deck surrounded by the woods, which was comfortable, even on the warmest of days, due to lots of cover & shade as well as two ceiling fans. I spent time laying in the hammock while the kids played... and was able to cook up some amazing home cooked meals in the beautiful - well equipped kitchen. If I had forgotten something - it was already there. The linens and towels were fluffy and comfortable - and PLENTY. The jacuzzi tub in the upstairs bedroom is amazing. I spent quite a bit of time there, just myself and a glass of wine. I spoke with Gary a few times, of my own initiation, and he was readily available and extremely helpful -- not to mention just an all around great guy. We will definitely be coming back. We could not have been more satisfied -- no -- more PLEASED!
Reviews are the subjective opinions of Hocking Hills visitors and not of HockingHills.com
Web Site:
www.creekscrossingcabins.com