Buona Vita Cabin
Buona Vita Cabin

South Bloomingville, Ohio 43152

Phone: 7402058100

Web Site:

www.dolcevitacabin.com/buona

Property Overview

Buona Vita Cabin is a luxury cabin built by the Jubach Company situated on 8 secluded acres. This Alaskan themed cabin sleeps 6 and has a unique outdoor sauna and bathhouse.


Category: Hocking Hills Cabins
Accommodations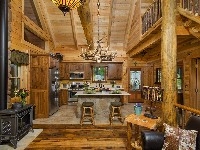 Buona Vita Cabin
- Buona Vita Cabin in located in Hocking County on 8 secluded, wooded acres. The cabin is tucked into the woods and has a separate sauna and bath house. The property is beautifully landscaped with a firepit. The ensuite bathroom has a large soaking tub.
Maximum Occupancy: 6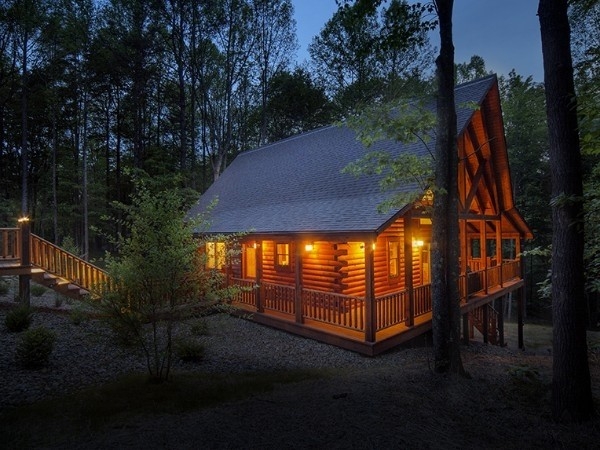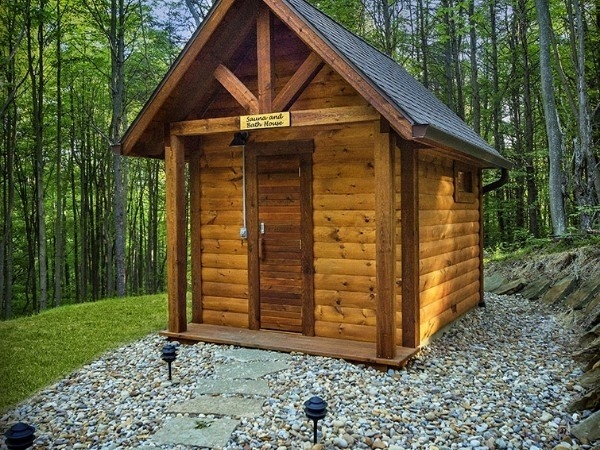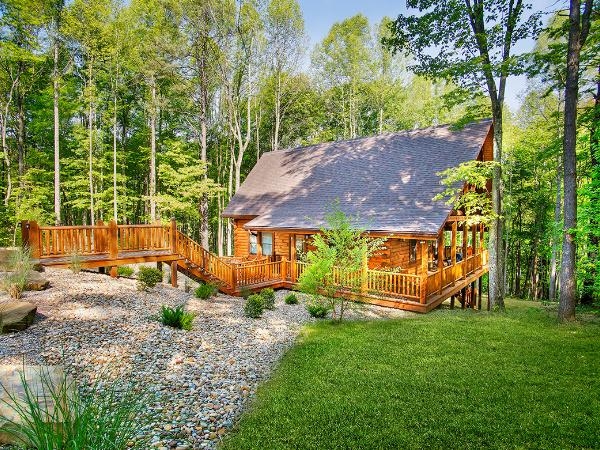 Featured Amenites
(The most commonly requested Hocking Hills amenities are listed in bold)
•

Firewood Provided


• Gas Log Fireplace
•

Big Screen TV


• Cable Television
• Satelite Television
• DVD Player
•

Fire Ring


•

Air Conditioning


• High Speed Internet Access

• 3 Bedrooms
•

Queen Bed


• 2 Baths
• Gas Grill

•

Suited for Children


•

Pets Allowed


• Telephone
• Television
• VCR Player
• Board Games
• Movies

Visitor Reviews
Rating

5 out of 5

Amazing property!

All Smiles,

Cincinnati, OH

Review Posted:

Jun 11

Date of Visit:

June

We rented this property with another couple for a fun, relaxing getaway. As soon as I saw the pictures of the cabin when we were site hunting, I knew this was the place we had to stay! The cabin was everything we had hoped for. We cooked every day for breakfast and dinner which was a breeze since the kitchen was spacious and well equipped. It rained slightly on one of the days so having a covered patio downstairs to play cornhole was perfect! Not to mention that movie time on a big screen, awesome sound system and individual reclining chairs made for an fantastic movie watching experience. The firepit area was a beautiful and relaxing way to spend each night. One evening, several little frogs decided to join us by the fire, drinks, laughter and star gazing. We really could not have been happier with our experience at Buona Vita and the rental process. The cabin was beautiful, clean, smelled amazing and was everything we could have hoped for!
Rating

5 out of 5

Quiet, remote getaway with the comforts of home!

Mom's Weekend 2018,

Westerville, OH

Review Posted:

Apr 25

Date of Visit:

April

There's just too much to share about this stunning property! For starters, you can feel good about the photos. Quite honestly, the cabin exceeded our expectations. We were happy to find all the comforts of home. The owners have thought of everything, even bundles of wood you can purchase for a small charity donation. The perfect touch! The layout of the cabin is suitable for a girls' weekend, or adventure with the family. And if you're a bit tuckered out from hiking, a good sweat in the sauna, and all that sitting by the fire, the home theater downstairs is the perfect place to gather and recharge for the next day. The binder in the cabin with information and instructions is everything you need. The personality of the owners comes through, and we were tickled to meet them both while out for a hike and tour their other cabin. Not only will we be back, but we could bring another family to crash next door!

Management Comment:
Thank you! So glad you had a wonderful time and hope to see you back soon.
Rating

5 out of 5

Bouna Vita cabin, What at Beautiful Place

Review Posted:

Aug 22

Date of Visit:

August

The cabin is much better than the photos show. The Kitchen is professional grade with Quartz countertops and a gas stove. The sauna was very nice and easy to use. There is plenty of parking and a wonderful fire pit area to sit around at night. We loved the wrap around porch. The cabin is beautifully furnished, everything is first class with three totally separate sleeping areas.
Rating

5 out of 5

Girls getaway

Mama Bear,

Cortland, Ohio

Review Posted:

May 10

Date of Visit:

April

Everything was outstanding! Cabin was gorgeous, very comfortable and relaxing. Just what we needed. My only suggestion would be to add window coverings to the bedrooms for privacy. It wasn't a big deal since I was there with my sister(even though it was a little creepy at night) but I was thinking that if my husband and I ever came with another couple, or our children- it would be an issue. Also, it would be nice to add a few platters to the kitchen for grilling purposes. My only regret was that we should have stayed longer! Thank you so much for sharing your beautiful cabin with us!

Management Comment:
Thank you for that comment. I was thinking about adding curtains to protect the wood and furniture but never considered a privacy issue since the bedrooms all face 150 privately owned acres. I will add them and platters for grilling! :)
Rating

5 out of 5

Beautiful, Quiet and clean

Review Posted:

Apr 24

Date of Visit:

April

Loved this cabin. Perfect size for 4-6 persons. It was amazingly clean and beautiful. I was able to walk in my socks without reservations. The showers, tubs and sauna was wonderful, better than described. The property was very quiet and peaceful. The outdoor fire pit was nice, roasted S'mores every night. I would definitely recommend this cabin property to others. I hope to return myself in the future. I do recommend planning to be mostly digital free as internet is spotty, so plan to be care free and savor the outdoors. There are videos, books and games for all ages on site.
Rating

5 out of 5

Outstanding!!

Review Posted:

Feb 27

Date of Visit:

February

Buona Vita Cabin was Outstanding--- Everything was Top Notch and was the perfect place for a Weekend Get-A-Way
Reviews are the subjective opinions of Hocking Hills visitors and not of HockingHills.com
Web Site:
www.dolcevitacabin.com/buona