A Georgian Manner
A Georgian Manner

29055 Evans Rd.

Logan, Ohio 43138

Phone: 740-380-9567, 800-606-1840

Web Site:

www.georgianmanner.com

Property Overview

Experience Luxury & Comfort at its finest overlooking the serenity of Lake Logan. Romantic, intimate, & beautifully furnished rooms, including a honeymoon suite with private Jacuzzi.
Accommodations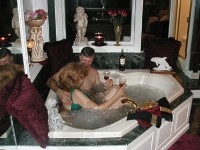 Ohio Honeymoon Suite
- Spacious, elegant,romantic suite with King Bed, Heart shaped Jacuzzi, shower, T.V.,DVD, overlooking Lake Logan. On ground floor. French doors looking over the Grecian Pergola and Lake Logan. Look for our Baby Deer,Swans.
Maximum Occupancy: 2
Queen Mary
- Romantic upstairs corner room.Original Hardwood floors, French doors and balcony overlooking Lake Logan. Very Romantic, second most Romantic room in the Manor, Queen size bed. Shares bathroom with Crystal Rose room. Can be rent as suiteprivate bath$199.
Maximum Occupancy: 2
Robert E Lee
- Upstairs corner room with charming beveled oval window, original hardwood floors, with antique furnishings. Several Civil War artifacts. Shares bathroom Jacuzzi Shower with Stonewall Jackson room.Can be rented with private bath as the R.E.Lee Suite.
Maximum Occupancy: 2
Crystal Rose
- Upstairs smaller corner room with Queen bed, antique furnishings, and lovely view. Romantic, looking into the woods and Lake Logan. Very feminine.Shares large bathroom, shower, with the Queen Mary room. 2 night minimum weekends holidays.
Maximum Occupancy: 2
Stonewall Jackson
- Amish handmade 1860''s walnut bedroom suite. Quiet and luxurious overlooking Lake Logan. Civil War Decor, smaller room. Looks into the woods and Lake Logan. Shares bathroom with the Lee room. 2 night minimun.
Maximum Occupancy: 2
Queen Mary Suite
- This is the Queen Mary room which will use a large PRIVATE bath, not shared.
Maximum Occupancy: 2
Gen. Robert E. Lee Suite
- This is the Robert E. Lee room which uses a large Private Bath not shared with a 2 person Jacuzzi shower , Travertine Marble .
Maximum Occupancy: 2
Combined Featured Amenites
(The most commonly requested Hocking Hills amenities are listed in bold)
• Cable Television
• DVD Player
•

Fire Ring


•

Air Conditioning


• Fishing On Site
• Swimming Lake/Pond On Site

• 1 Bedroom
• Full Bed
•

King Bed


•

Queen Bed


• Shower Only
• 1 Bath
• Gas Grill
• Charcoal Grill
•

Wedding Facilities



• Laundry Facility
• Iron / Ironing Board
•

No Smoking Inside


• Telephone
• Television
• Movies

Web Site:
www.georgianmanner.com